cartographica extraordinaire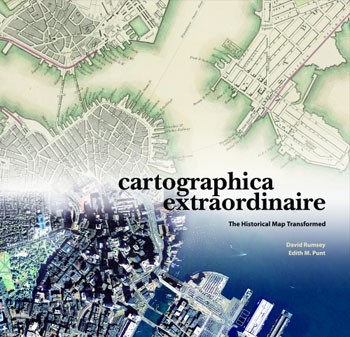 Book cover for Cartographica Extraordinaire
Surveying our past—old maps and new technology combine to provide an extraordinary view of American history in a new book by David Rumsey and Edith M. Punt.
In Cartographica Extraordinaire, maps serve as time machines, transporting us hundreds of years into the past and showing us extraordinary views of history through the eyes of the mapmakers of the time. From a 1736 atlas depicting California as an island to a Civil War bird's eye view of military positions on the southeastern seaboard, the stunning reproductions from the renowned David Rumsey Map Collection and text illuminate early American history from a uniquely geographic perspective.
Released from ESRI Press, the publishing arm of the world's leading computer mapping company, Cartographica Extraordinaire: The Historical Map Transformed allows readers to witness an evolution in map-making as new lands are explored and the art and science of cartography progresses from early surveyor's rods and chains to modern satellite imagery.
Cartographica Extraordinaire: The Historical Map Transformed is now shipping and is available for purchase at amazon.com. Read reviews from amazon customers, SF Weekly, or the American Surveyor Magazine.
take a look inside
The following Adobe PDF files are an example of the maps presented in the book. Download these excerpts to view inside the book:
about the authors
David Rumsey is president of Cartography Associates, a digital publishing company based in San Francisco, and a director of Luna Imaging, a provider of enterprise software for online image collections. Mr. Rumsey received his BA and MFA from Yale University where he was a lecturer in art at the Yale Art School for several years. He serves on the boards of the John Carter Brown Library and the American Antiquarian Society, is a trustee of Yale Library Associates, and is a member of the Stanford University Library Advisory Board.
Edith M. Punt is a graduate of McGill University in Montreal and the College of Geographic Sciences in Nova Scotia. In 1996 she won the National Geographic Society Award in Cartography. She has been a cartographer at ESRI since 1996, and is currently a writer, editor and cartographer at ESRI Press.