luna viewer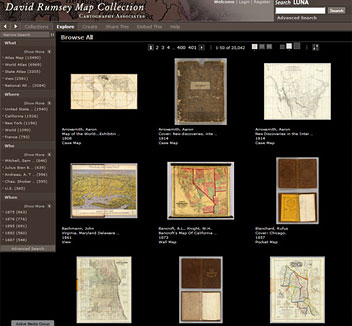 Interface of LUNA Viewer
NEW! The new LUNA Viewer has many powerful tools to help you find, work with and share content. New features include:
Create Web Widgets and embed them in outside applications
Build Media Groups
Create a slide show from a Media Group
Create dynamic presentations
Easily create a link to any view, Media Group, slide, or presentation
Search Flickr for added content via the External Media Search
Create annotations on the map images and share them.
Use the advanced viewing tools in the LUNA Workspace
Content specific Help for more information on how to use the LUNA Viewer
Learn, create, share and Explore...
The LUNA  Viewer is compatible with Edge, Firefox, Safari and Google Chrome. Works in iPad and iPhone.
luna viewer - quickstart guide
Browse the pages of thumbnails by clicking on the < or >, or click on a page number to jump to that page.
To search for images enter a keyword, use the Advanced Search or Browse Categories.
To see a Media Summary rollover a thumbnail.
To open an image in the Detail View for zooming tools and full catalog record, click on it.
Add images to Media Groups to organize your favorite content.
To explore several images simultaneously, add images to the LUNA Workspace.
Use the Presentation tool to make dynamic presentations for export or playback.
Consult the online Help for more information on how to use the LUNA Viewer.
The LUNA Viewer and Java Client software are products of Luna Imaging, Inc.