google maps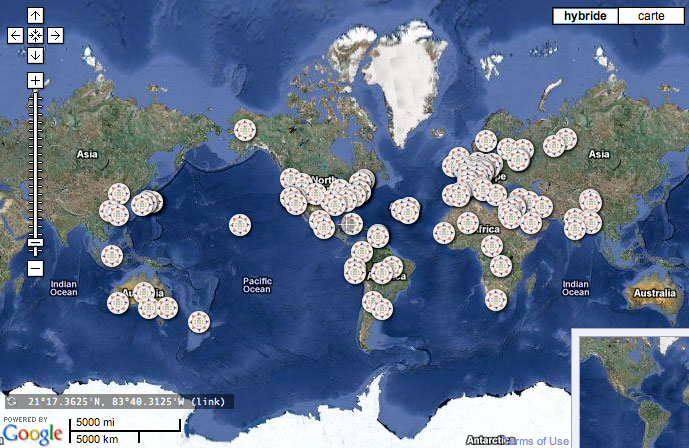 Launch Google Maps
Launch Maps in LUNA Browser
The over 120 historical maps in the Google Maps have been selected by David Rumsey from his collection of more than 150,000 historical maps; in addition, there are a few maps from collections with which he collaborates. These maps can also be seen in the Gallery layer of Google Earth, Rumsey Historical Maps layer, and in the Google Earth viewers on this website.
All the maps contain rich information about the past and represent a sampling of time periods (1680 to 1930), scales, and cartographic art, resulting in visual history stories that only old maps can tell. Each map has been georeferenced, thus creating unique digital map images that allow the old maps to appear in their correct places on the modern globe.
Some of the maps fit perfectly in their modern spaces, while others (generally earlier period maps) reveal interesting geographical misconceptions of their time and therefore have to be more distorted to fit properly in Google Maps and Earth. Cultural features on the maps can be compared to the modern satellite views using the slider bars to adjust transparency.
The original historical maps are first made into digital images by scanning them with high resolution digital cameras. Then these digital images are transformed in a process called georeferencing, which makes them display in their correct geographical spaces in Google Maps and Earth. Georeferencing is done using a GIS program, which takes points on the old maps (cities, coast lines, rivers, streets) and connects them to the same points on a modern satellite map image or a modern street map or a modern map showing boundaries of countries and states. The GIS program then takes all these points (as many as 200 are made for very large maps) and uses them to recreate the digital image so it will fit into its modern geographical space. Often the image has to be curved a bit for this to be accomplished.
The result is an exploration of time as well as space, a marriage of historic cartographic masterpieces with innovative contemporary software tools.
Processing and hosting of the Rumsey Historical Maps in Google Maps is provided by Geogarage.
google maps quicklinks
List of maps in Google Maps, click on the link to open in Google Maps:
Globes:

North America:

U.S. Cities:

Canada:

Mexico:

West Indies:

South America:

Argentina:

Peru:

Europe:

United Kingdom:

France:

Germany:

Spain:

Italy:

Russia:

Asia:

Japan:

China:

India:

Middle East:

Africa:

Egypt:

Australia and Pacific: