the collection
The David Rumsey Map Collection Database has many viewers and the Blog has numerous categories. The physical map collection is housed in the David Rumsey Map Center at the Stanford University Library.
The historical map collection has over 96,000 maps and related images online. The collection includes rare 16th through 21st century maps of America, North America, South America, Europe, Asia, Africa, Pacific, Arctic, Antarctic, and the World.
Popular collection categories are data visualization, celestial, antique atlas, globe, school geography, maritime chart, state atlas, county atlas, city atlas, pocket, wall & case, children's, and manuscript maps. Search examples: Pictorial maps, United States maps, Geology maps, California maps, Afghanistan maps, America maps, New York City maps, Chicago maps, and U.S. Civil War maps. Browse  map categories: What, Where, Who, When. The collection is used to study history, art, genealogy, explorations, and family history. Learn more
Improved georeferencer v4
Georeferencer v4 is an improved and updated version of our prior Georeferencer v3.  It allows you to overlay historic maps on modern maps or other historic maps. The overlaid maps reveal changes over time and enable map analysis and discovery. You can choose your own maps to georeference by Searching LUNA and using the Georeference This Map button or help us georeference the entire online map library using our Random Map link to georeference maps in our First Pilot Project of 6,000 maps of major cities and regions. Users who georeference the most maps will be recognized in the bar displays below. Recently Georeferenced maps can be viewed by image or by location.
featured app - maprank search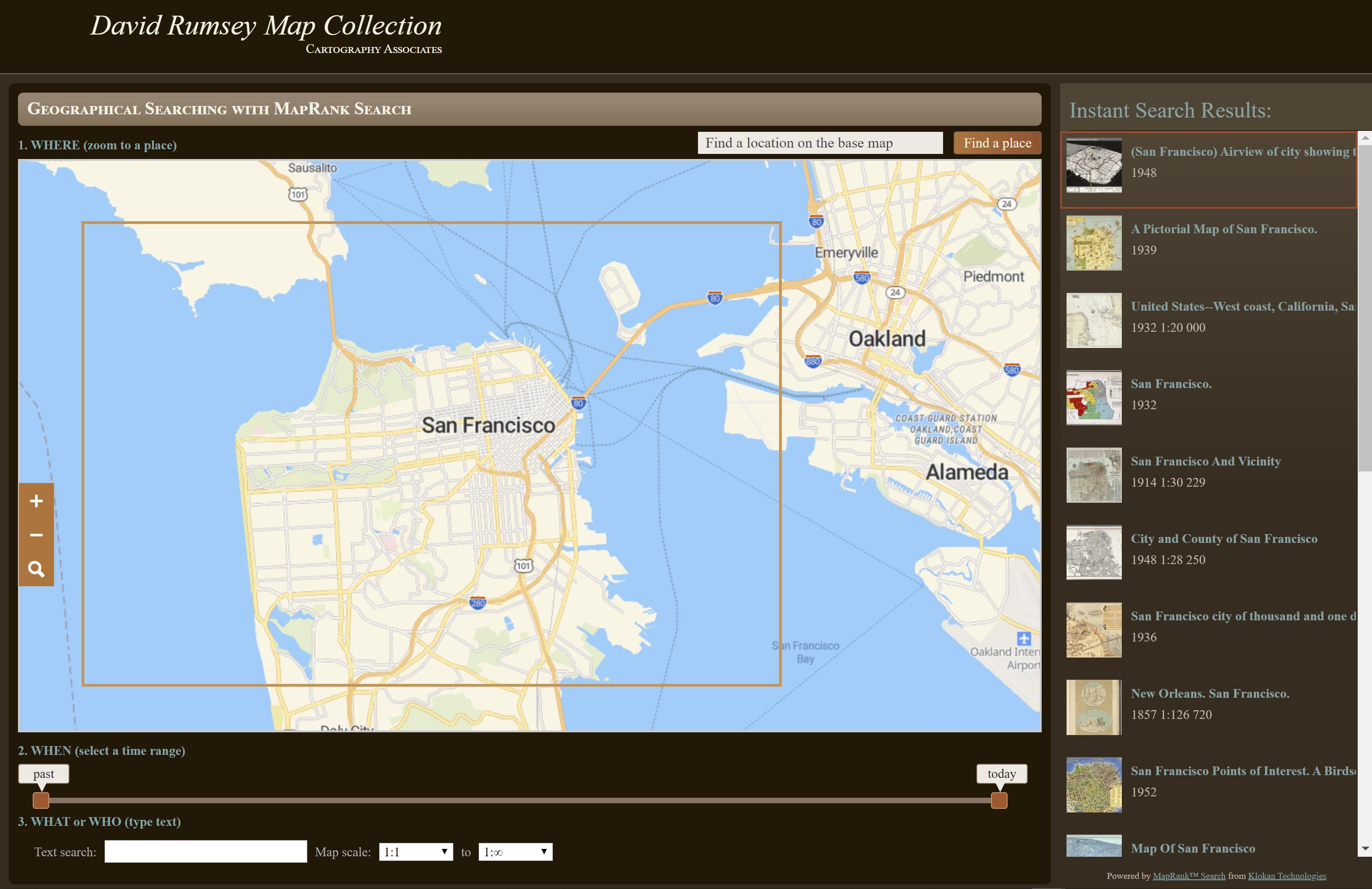 The new MapRank search tool enables geographical searching of the collection by map location and coverage, in a Google Map window. Pan and zoom the Google Map to the area of the world you want maps of, and the results will automatically appear as a scrollable list of maps with thumbnail images in the right side window. The maps in the right side list are ranked by coverage, with the maps that have coverage closest to your search window listed at the top. Mousing over any map in the list will show the map's coverage as a light red rectangle on top of the Google Map. Clicking on a map in the list will open it in the Luna Browser. You can filter your results with the When timeline, the What or Who keyword text window, and the Map scale windows, as well as search by place name in the Find a place window.  Learn more
featured application - ticker
Images from The David Rumsey Historical Map Collection
◄
■
►
loading...