david rumsey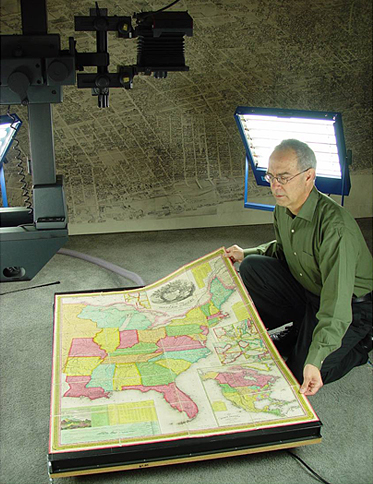 David Rumsey scanning a map for the Collection
David Rumsey is President of Cartography Associates, a digital publishing company based in San Francisco, and is Chairman of Luna Imaging, a provider of enterprise software for online image collections. He was a founding member of Yale Research Associates in the Arts, also known as PULSA, a group of artists working with electronic technologies. He subsequently became Associate Director of the American Society for Eastern Arts in San Francisco. Later, he entered a 20 year career in real estate development and finance during which he had a long association with Charles Feeney's General Atlantic Holding Company of New York and served as President and Director of several of its real estate subsidiaries; General Atlantic eventually became the Atlantic Philanthropies, a Bermuda based philanthropic foundation that is one of the world's largest charities. Rumsey retired from real estate in 1995 and founded Cartography Associates, beginning a third career as a digital publisher, online library builder, and software entrepreneur.
Rumsey began building a collection of North and South American historical maps and related cartographic materials in 1980. Eventually the collection expanded to include historical maps of the entire world, from the 16th to the 21st centuries. His collection, with more than 150,000 maps, is one of the largest private map collections in the United States. In 1995, Rumsey began the task of making his collection public by building the online David Rumsey Historical Map Collection, www.davidrumsey.com. Currently the online web site has over 107,000 high resolution images of maps and related images from his collection. The site is free to the public and is updated monthly.  Rumsey has created historical map projects both in Google Earth, Google Maps and the virtual world of Second Life. Recently he has added Georeferencer to his site which allows georectification of maps by site users.
In 2002, Rumsey was given an Honors Award from the Special Libraries Association for making his private map collection available to the public via the Internet. In the same year his map web site won a Webby Award for Technical Achievement. The site has won numerous other Web awards and has been featured in Wired magazine, MIT's Technology Review, Mercator's World magazine, San Francisco Chronicle, New York Times, and on TechTV.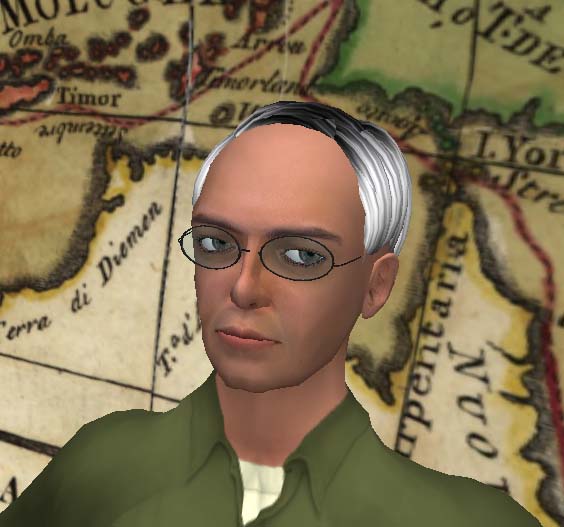 Map Darwin,  Rumsey's avatar in Second Life
Rumsey has lectured widely regarding his online library work, including talks at the Library of Congress, New York Public Library, Digital Library Federation, Stanford University, Harvard University, Where 2.0, OSCON, and at conferences in Hong Kong, Mexico, Japan, United Kingdom, and Germany.
Rumsey received his BA and MFA from Yale University where he was a lecturer in art at the Yale Art School for several years. He has served on the boards of the John Carter Brown Library, the Internet Archive, The Long Now Foundation, the Stanford University Library Advisory Board, CLIR, the American Antiquarian Society, Yale Library Associates and the Samuel H. Kress Foundation. Rumsey has contributed to several publications on cartography and the advent of GIS. In 2005 ESRI Press published Cartographica Extraordinaire which he co-authored with Edith Punt. In 2009 Rumsey committed to donating his physical and digital map collection to Stanford University. In 2016 the David Rumsey Map Center opened in the Stanford Library.