Coronelli, Vincenzo (1650-1718). 1688.  (Terrestrial Globe 42 Inches in Diameter) Globo della Terra di tre piedi, e mezzo di diametro. Date estimated. Images provided by the State Library of New South Wales where the original printed globe gores reside. From the catalog record of the library: "1 globe on 26 sheets ; 24 globe gores each 27.5 x 64 x 9.5 x 64 cm. and 2 polar calottes 36 cm. diam. Relief shown pictorially. Title from 'The works printed by Father Coronelli' in Epitome Cosmografica M DC LXXXXIII. 24 gores and 2 polar calottes to make up a 42 inch (107 cm.) terrestrial globe. Includes text and illustrations. This illustrated globe is amongst the largest printed, and contains up-to date discoveries by La Salle and Chaumont. The large and small medallions near the dedication to Cardinal Cesare D'Estrees dated 1688 are blank. Coronelli's portrait incl. parchment with "Atlante Veneto" [1690 - 1696]; this terrestrial set dated 1688 is therefore contemporary with the accompanying Celestial globe gore set which is dated 1693. Online images available via the State Library of NSW, Australia. Georeferencing of globe gores done by Cartography Associates in 2016. Gores georeferenced in Cassini-Soldner projection, then converted to Geographic, Robinson, and Times projections. Accompanied by a set 26 Celestial Globe Gores and Calottes dated 1693. View All of Coronelli's Works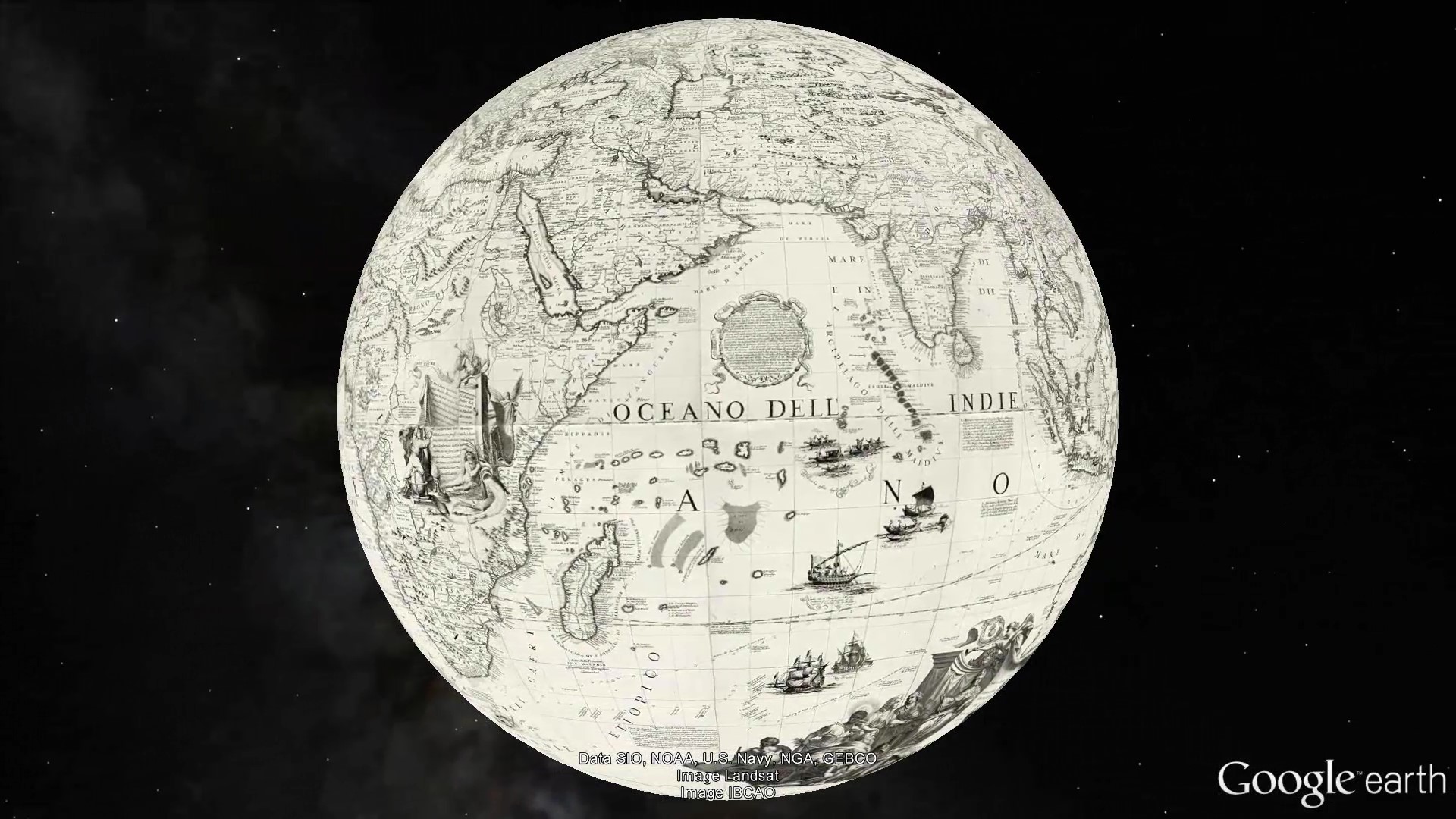 This video was commissioned by Google Earth to go with the 2019 launch of a large group of Rumsey Historic Maps placed in the new browser version (no download required) of Google Earth. You can see the Rumsey Historic Map layer in the Google Earth browser here.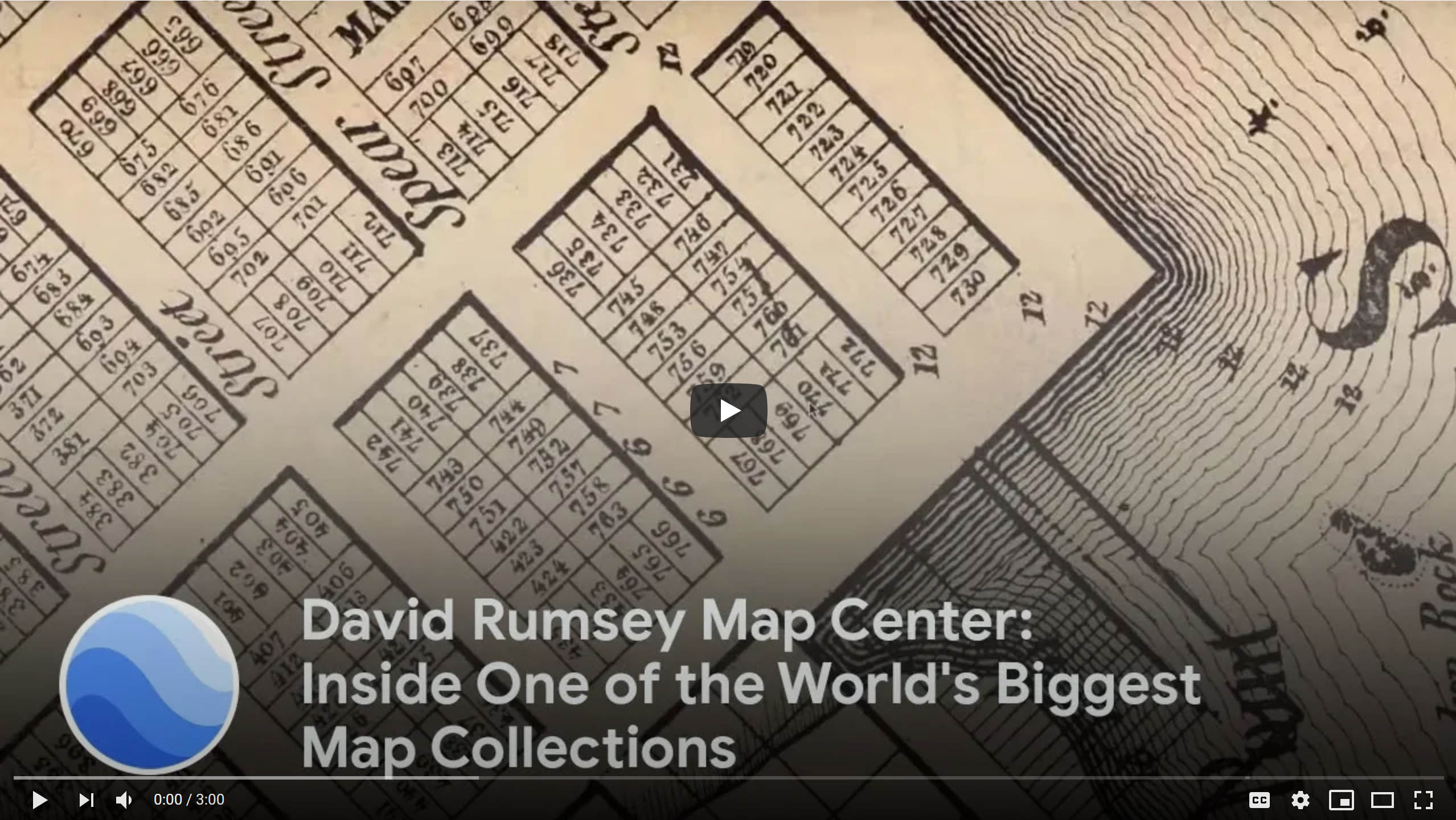 David Rumsey gave the opening keynote lecture for the Digital Humanities 2011 Conference at Stanford University on June 19, 2011.
Abstract of the talk: Maps are dense, complex information systems arranged spatially. While they share similarities with other visual artifacts, their uniqueness as spatially arranged visual information both allows for and demands special digital approaches to understand and reuse their content. Georeferencing, vectorization, virtual reality, image databases, and GIS-related tools all work to unite our eyes, minds, and computers in new ways that can make historical maps more valuable and accessible to humanists concerned with place and space over time. Rumsey will explore the tools and techniques that have implications for the ways digital humanists approach visual information.
This is a video of David Rumsey giving the opening keynote address to the Digital Library Federation Spring 2008 Forum in Minneapolis, Minnesota, on April 28, 2008. The talk is a substantially expanded version of the Second Life Launch Event talk.
A video presentation from the Rumsey Map Islands launch in Second Life on March 6, 2008.
A talk by David Rumsey for the Seminars in Long Term Thinking of The Long Now Foundation on May 14, 2004.
In this video the 1790 Cassini Terrestrial Globe is combined in ESRI's ArcGlobe with other GIS layers, including NASA's satellite image of the world at night, several satellite images of world topography and bathymetry, and other historical maps and globes.
Giovanni Maria Cassini made a Terrestrial Globe in 1790 and a Celestial Globe in 1792.  This video shows both globes virtually recreated in Google Earth, with the Celestial Globe turned inside out and placed 64 million meters outside the Terrestrial Globe.  The same space can be viewed live in Google Earth  (requires download of app, turn off Atmosphere layer in Google Earth).