California, Oregon, Washington, Utah, New Mexico. (Mitchell, Samuel Augustus), 1857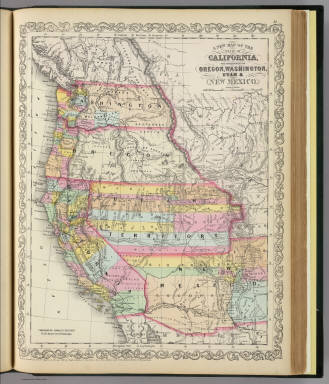 View larger, zoomable image
(turn off pop-up blocker)
Full Title: A new map of the state of California, the territories of Oregon, Washington, Utah and New Mexico. Published by Charles Desilver, no. 251 Market Street, Philadelphia. Entered according to Act of Congress in the year 1856 by Charles Desilver in the ... District Court of the eastern district of Pennsylvania. (1857)
Author: (Mitchell, Samuel Augustus)
Date: 1857
This historical cartographic image is part of the David Rumsey Historical Map Collection, www.davidrumsey.com, a large collection of online antique, rare, old, and historical maps, atlases, globes, charts, and other cartographic items. Read more about the Collection. Or you can view the entire David Rumsey Map Collection in Insight.
Full David Rumsey Map Collection Catalog Record:
Author: (Mitchell, Samuel Augustus)
Date: 1857
Short Title: California, Oregon, Washington, Utah, New Mexico.
Publisher: Philadelphia: Charles Desilver
Type: Atlas Map
Object Height cm: 41
Object Width cm: 33
Scale 1: 6,600,000
Note: Unlike 1856 eds. this has wider (12 mm) uncolored ornamental border; labels area southeast of Ft. Yumas as "uninhabited region," does not include Bartlett's and Graham's lines in southern Arizona and New Mexico. Relief shown by hachures and spot heights. Shows Indian tribes. Prime meridians: Greenwich and Washington.
State / Province: U.S. West ; California ; Oregon
Full Title: A new map of the state of California, the territories of Oregon, Washington, Utah and New Mexico. Published by Charles Desilver, no. 251 Market Street, Philadelphia. Entered according to Act of Congress in the year 1856 by Charles Desilver in the ... District Court of the eastern district of Pennsylvania. (1857)
List No: 2514.001
Page No: 37
Published In: A new universal atlas containing maps of the various empires, kingdoms, states and republics of the World. With a special map of each of the United States, plans of cities &c. Comprehended in eighty one sheets and forming a series of one hundred and forty five maps, plans and sections ... Philadelphia, Charles Desilver, No. 251 Market Street. 1857. Entered ... 1856 by Charles Desilver ... Pennsylvania. (title page by) Barralet del. Humphreys, sc. J. Knight Sc.
Publication Author: Mitchell, Samuel Augustus
Publication Date: 1857
Publication Reference: Phillips, 823.
Publication Note: Issued earlier in the year than our other 1857. The California, etc., map is an earlier and different issue than our other 1857 copy; also, some of the other maps have small changes. In a different binding, pages with gilt paper edges. Covers are half leather dark green cloth covered boards with "Mitchell's Universal Atlas" stamped in gilt on spine. Maps in full color.
Publication List No: 2514.000
Publication Type: World Atlas
Publication Maps: 77
Publication Height cm: 45
Publication Width cm: 37
Image No: 2514001

Digital images and descriptive data © 2000 by Cartography Associates. Images may be reproduced or transmitted, but not for commercial use. For commercial use or commercial republication, contact . This work is licensed under a Creative Commons License. By downloading any images from this site, you agree to the terms of that license.
Important!
Firewalls, or Browser settings that block Pop-up Ads, may prevent correct operation of Insight Java Client or Insight Browser. Test by turning off the Firewall and/or allowing Pop-ups from this site only - if this corrects the problem, adjust your Firewall or Browser settings.


The Insight® Browser and Java client software are products of Luna Imaging, Inc.
If you have comments, suggestions, or need help, contact The David Rumsey Collection at .
home | about | view the collection | recent additions | news | help
Copyright© 2003 Cartography Associates.
All rights reserved.