The Coast of West Florida and Louisiana. Jefferys, Thomas, 1775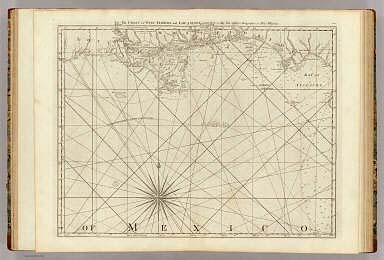 View larger, zoomable image
(turn off pop-up blocker)
Full Title: The Coast of West Florida and Louisiana. By Thos. Jefferys, Geographer to His Majesty. (London, printed for Robt. Sayer, Map & Printseller, no. 53 Fleet Street, as the Act directs 20th Feby. 1775)
Author: Jefferys, Thomas
Date: 1775
This historical cartographic image is part of the David Rumsey Historical Map Collection, www.davidrumsey.com, a large collection of online antique, rare, old, and historical maps, atlases, globes, charts, and other cartographic items. Read more about the Collection. Or you can view the entire David Rumsey Map Collection in Insight.
Full David Rumsey Map Collection Catalog Record:
Author: Jefferys, Thomas
Date: 1775
Short Title: The Coast of West Florida and Louisiana.
Publisher: London: Sayer and Bennett.
Type: Atlas Map ; Chart Map
Object Height cm: 48
Object Width cm: 63
Scale 1: 1,560,000
Note: Engraved nautical chart showing rhumb lines, the Flota's track from Vera Cruz to Havana to avoid the trade winds, currents, etc. Depths shown by soundings and one isoline. Includes notes. Sheet DF.3 of "... a complete chart of the West Indies ..."
Reference: cf Lowery, 577; cf Talliafero, 167; NMM 360 (1775 edition), 366 (1796 edition); P2701 (1787 edition), P2702 (1794 edition); P-Maps, p.281 and 371.
Country: United States
State / Province: Louisiana ; Florida ; Alabama ; Mississippi
Full Title: The Coast of West Florida and Louisiana. By Thos. Jefferys, Geographer to His Majesty. (London, printed for Robt. Sayer, Map & Printseller, no. 53 Fleet Street, as the Act directs 20th Feby. 1775)
List No: 4723.009
Page No: DF.3
Series No: 14
Published In: The West-India atlas: or, a compendious description of the West-Indies: illustrated with forty one correct charts and maps, taken From actual surveys. Together with an historical account of the several countries and islands which compose that part of the world.
Publication Author: Jefferys, Thomas
Publication Date: 1788
Publication Reference: cf NMM 360 (1775 edition), 366 (1796 edition); P2701 (1787 edition).
Publication Note: This is a superb atlas of the West Indies and a companion atlas to Jeffery's American Atlas also first issued in 1775. The latest date on the charts in this copy is 1788 (The Cape Verd Islands). There is a beautifully illustrated title page that precedes the main title page, which reads "The West Indian Atlas..." Jefferys died in 1771; Sayer and Bennet acquired his materials in preparation for this atlas, and published the atlas posthumously under his name (as they did with the American Atlas) in 1775. The heart of this atlas and the most detailed part is the sixteen sheet large chart and index sheet of the whole of the West Indies. The rest of the atlas consists of charts of the Atlantic Islands and the British Channel, as well as individual maps and charts of seventeen islands in the West Indies. Twenty seven pages of text gives the sources for the maps and charts, and a historical account of the West Indies. Three of the large chart maps also appeared in the American Atlas. Comparing the two Florida sheets in this atlas to the same sheets in the 1775 American Atlas, numerous changes to the coast lines and other features appear. That would indicate that Sayer updated the charts as the atlas was reissued - Phillips shows issues of 1775, 1781, 1787, 1794, 1796, 1807, and 1818. With the 1794 and later editions, 20 maps are added of various additional islands. Sayer and Bennet also published in 1775 a smaller version of this atlas called "The West India Islands: From Actual Survey and Observations..." that consisted of the same text, a general chart of the Islands, and the same sixteen or seventeen (depending on the edition) charts of the islands that appear in the larger version (P3942). Finally, Jefferys himself published in 1762 "A Description of the Spanish Islands and Settlements on the Coast of the West Indies" which was issued in quarto, with a general chart and 32 maps and plans of harbors and towns (P3941).
Publication List No: 4723.000
Publication Type: Regional Atlas
Publication Maps: 40
Publication Height cm: 55
Publication Width cm: 41
Image No: 4723009

Digital images and descriptive data © 2000 by Cartography Associates. Images may be reproduced or transmitted, but not for commercial use. For commercial use or commercial republication, contact . This work is licensed under a Creative Commons License. By downloading any images from this site, you agree to the terms of that license.
Important!
Firewalls, or Browser settings that block Pop-up Ads, may prevent correct operation of Insight Java Client or Insight Browser. Test by turning off the Firewall and/or allowing Pop-ups from this site only - if this corrects the problem, adjust your Firewall or Browser settings.


The Insight® Browser and Java client software are products of Luna Imaging, Inc.
If you have comments, suggestions, or need help, contact The David Rumsey Collection at .
home | about | view the collection | recent additions | news | help
Copyright© 2003 Cartography Associates.
All rights reserved.