Maine. Morse, Sidney E. (Sidney Edwards), 1794-1871; Breese, Samuel, 1802-1873, 1845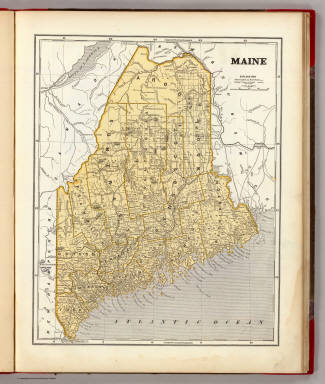 View larger, zoomable image
(turn off pop-up blocker)
Full Title: Maine. (By Sidney E. Morse and Samuel Breese. New York: Published by Harper & Brothers, 1845)
Author: Morse, Sidney E. (Sidney Edwards), 1794-1871; Breese, Samuel, 1802-1873
Date: 1845
This historical cartographic image is part of the David Rumsey Historical Map Collection, www.davidrumsey.com, a large collection of online antique, rare, old, and historical maps, atlases, globes, charts, and other cartographic items. Read more about the Collection. Or you can view the entire David Rumsey Map Collection in Insight.
Full David Rumsey Map Collection Catalog Record:
Author: Morse, Sidney E. (Sidney Edwards), 1794-1871; Breese, Samuel, 1802-1873
Date: 1845
Short Title: Maine.
Publisher: New York: Harper & Brothers
Type: Atlas Map
Object Height cm: 38
Object Width cm: 31
Scale 1: 1,350,000
Note: Col. wax engraved map. Relief shown by hachures. Prime meridians: Greenwich and Washington.
State / Province: Maine
Full Title: Maine. (By Sidney E. Morse and Samuel Breese. New York: Published by Harper & Brothers, 1845)
List No: 2301.005
Page No: (5)
Series No: 7
Published In: Morse's North American atlas. Containing the following beautifully colored maps ... New York: Published by Harper & Brothers, 82 Cliff Street. Entered ... 1842, by Sidney E. Morse and Samuel Breese ... New York.
Publication Author: Morse, Sidney E. (Sidney Edwards), 1794-1871; Breese, Samuel, 1802-1873
Publication Date: 1845
Publication Reference: Phillips, 1228; Woodward, D. The All-American map, p. 14ff; Ristow, W.W. American maps and mapmakers, p. 154. Cf. Phillips, 1383.
Publication Note: The first Cerographic Atlas of the United States. Originally Issued in three parts starting in 1842 and ending in 1845 (although Woodward states that it cannot be determined how many parts were issued, our copy indicates three parts), This copy is the 1845 edition, which is a reissue of the 1842 - 1845 edition with some changes to the maps and the addition of color. Library of Congress copy (Phillips, 1228) and this copy have no Oregon map and no separate map of Iowa, as issued. When the atlas was issued in parts (Phillips, 1383) there was an Oregon map and an Iowa map listed. However, this 1845 ed. adds 6 maps not in the 1st ed.: North America, Canada east, Canada west, Nova Scotia - New Brunswick &c., West India Islands, and Wisconsin Southern Part. Printed in full color. Bound in half leather floral textured brown cloth covered boards, titled "Morse's North American Atlas" in gilt.
Publication List No: 2301.000
Publication Type: National Atlas
Publication Maps: 36
Publication Height cm: 45
Publication Width cm: 37
Image No: 2301005

Digital images and descriptive data © 2000 by Cartography Associates. Images may be reproduced or transmitted, but not for commercial use. For commercial use or commercial republication, contact This work is licensed under a Creative Commons License. By downloading any images from this site, you agree to the terms of that license.
Important!
Firewalls, or Browser settings that block Pop-up Ads, may prevent correct operation of Insight Java Client or Insight Browser. Test by turning off the Firewall and/or allowing Pop-ups from this site only - if this corrects the problem, adjust your Firewall or Browser settings.


The Insight® Browser and Java client software are products of Luna Imaging, Inc.
If you have comments, suggestions, or need help, contact The David Rumsey Collection at
home | about | view the collection | recent additions | news | help
Copyright© 2003 Cartography Associates.
All rights reserved.