Cherry Run property. Beers, F. W. (Frederick W.); F.W. Beers & Co. 1865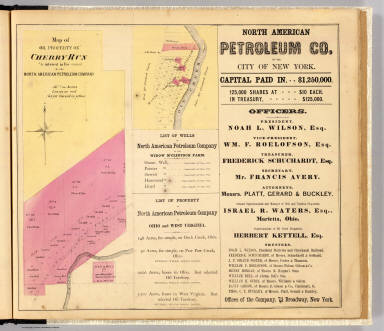 View larger, zoomable image
(turn off pop-up blocker)
Full Title: Map of oil property on Cherry Run 1/4 interest in fee owned by the North American Petroleum Company. (with North American Petroleum Company's property on Oil Creek. Entered ... 1865 ... Southern District of New York by F.W. Beers & Co. Ferd. Mayer & Co. Lithographers, 96 Fulton St., N.Y.)
Author: Beers, F. W. (Frederick W.); F.W. Beers & Co.
Date: 1865
This historical cartographic image is part of the David Rumsey Historical Map Collection, www.davidrumsey.com, a large collection of online antique, rare, old, and historical maps, atlases, globes, charts, and other cartographic items. Read more about the Collection. Or you can view the entire David Rumsey Map Collection in Insight.
Full David Rumsey Map Collection Catalog Record:
Author: Beers, F. W. (Frederick W.); F.W. Beers & Co.
Date: 1865
Short Title: Cherry Run property.
Publisher: New York: Beers, Ellis, & Soule
Type: Atlas Map
Object Height cm: 37
Object Width cm: 41
Scale 1: None shown
Note: Hand col. lithographed map, with inset and advertisements. Maps show lot lines, wells, etc.
State / Province: Pennsylvania
County: Venango County, Pa.
City: McClintock (Pa.)
Subject: Oil
Full Title: Map of oil property on Cherry Run 1/4 interest in fee owned by the North American Petroleum Company. (with North American Petroleum Company's property on Oil Creek. Entered ... 1865 ... Southern District of New York by F.W. Beers & Co. Ferd. Mayer & Co. Lithographers, 96 Fulton St., N.Y.)
List No: 0062.040
Page No: (42a)
Series No: 48
Engraver or Printer: Ferd. Mayer & Co.
Published In: Atlas of the oil region of Pennsylvania. From actual surveys under the direction of F.W. Beers, C.E. Assisted by Beach Nichols, J.M. Beers, A. Leavenworth, C.S. Peck, C.A. Curtis & Geo. Stewart. With a few facts relating to petroleum, historically, scientifically, and commercially, reviewed by Ivan C. Michels, Editor of the Philadelphia Coal Oil Circular and Petroleum Price Current. Published by F.W. Beers, A.D. Ellis & G.G. Soule, 43 John St. N.Y. Assistants: W.H. Hubbell, Willard Upton. Assistants: S. Stewart, Jas. Rhynus. Entered ... 1865 ... New York by F.W. Beers & Co. Ferd. Mayer & Co. Lithographers, 96 Fulton St. N.Y.
Publication Author: Beers, F. W. (Frederick W.)
Publication Date: 1865
Publication Reference: Phillips, 2441; LeGear. Atlases of the United States, L2994; Phillips. Maps of America, p. 683; McCorkle, B.B. America emergent, 77.
Publication Note: The only regional atlas made of the oil regions in Pennsylvania and probably the most complete and detailed mapping done at the time -- it is far more detailed than the general maps that appeared in pocket form or separately -- Colton, Townsend and Dale, Hunt, Howe, and Root, Anthony (see our copies). With the large Venango County map, as issued. Maps hand col. Atlas is rebound in new speckled paper covered boards with quarter faux leather spine and original cover label pasted on the front reading "Beers & Co.'s Atlas of the oil regions. Price $12.50" in gold print. Pages 5-6 listed in contents but lacking in this copy.
Publication List No: 0062.000
Publication Type: Regional Atlas
Publication Maps: 38
Publication Height cm: 41
Publication Width cm: 47
Image No: 0062040

Digital images and descriptive data © 2000 by Cartography Associates. Images may be reproduced or transmitted, but not for commercial use. For commercial use or commercial republication, contact This work is licensed under a Creative Commons License. By downloading any images from this site, you agree to the terms of that license.
Important!
Firewalls, or Browser settings that block Pop-up Ads, may prevent correct operation of Insight Java Client or Insight Browser. Test by turning off the Firewall and/or allowing Pop-ups from this site only - if this corrects the problem, adjust your Firewall or Browser settings.


The Insight® Browser and Java client software are products of Luna Imaging, Inc.
If you have comments, suggestions, or need help, contact The David Rumsey Collection at
home | about | view the collection | recent additions | news | help
Copyright© 2003 Cartography Associates.
All rights reserved.