Nova-Scotia, N.B., Lower Canada Society for the Diffusion of Useful Knowledge (Great Britain), 1832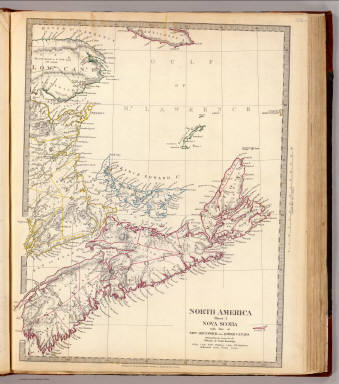 View larger, zoomable image
(turn off pop-up blocker)
Full Title: North America sheet I. Nova-Scotia with part of New Brunswick and Lower Canada. Published by the Society for the Diffusion of Useful Knowledge. Published Decr. 15th. 1832 by Baldwin & Cradock, 47 Paternoster Row, London. (London: Chapman & Hall, 1844)
Author: Society for the Diffusion of Useful Knowledge (Great Britain)
Date: 1832
This historical cartographic image is part of the David Rumsey Historical Map Collection, www.davidrumsey.com, a large collection of online antique, rare, old, and historical maps, atlases, globes, charts, and other cartographic items. Read more about the Collection. Or you can view the entire David Rumsey Map Collection in Insight.
Full David Rumsey Map Collection Catalog Record:
Author: Society for the Diffusion of Useful Knowledge (Great Britain)
Date: 1832
Short Title: Nova-Scotia, N.B., Lower Canada
Publisher: London: Chapman and Hall
Type: Atlas Map
Object Height cm: 40
Object Width cm: 33
Scale 1: 1,750,000
Note: Engraved map. Relief shown by hachures. County boundaries hand col.
Country: Canada
State / Province: Nova Scotia ; New Brunswick ; Prince Edward Island ; Quebec
Full Title: North America sheet I. Nova-Scotia with part of New Brunswick and Lower Canada. Published by the Society for the Diffusion of Useful Knowledge. Published Decr. 15th. 1832 by Baldwin & Cradock, 47 Paternoster Row, London. (London: Chapman & Hall, 1844)
List No: 0890.128
Page No: (130)
Series No: 137
Published In: Maps of the Society for the Diffusion of Useful Knowledge. Vol. 1. London: Chapman and Hall, 186, Strand, 1844.
Publication Author: Society for the Diffusion of Useful Knowledge (Great Britain)
Publication Date: 1844
Publication Reference: Phillips, 794.
Publication Note: The SDUK, as the Society was known, produced inexpensive maps to encourage broad use in education. The maps in these two volumes were issued in parts over several years. The city plans are of particular interest, with vignettes and great detail. The gnomonic star maps were issued separately in this edition in their own covers. This is the second edition, the first being by Baldwin and Cradock, with the maps issued in numbers and later bound as a set. Rumsey Collection copy originally issued without the 6 "World on a gnomonic projection" maps; copies of them have been laid in. Atlas is bound in half leather dark brown cloth covered boards with "Maps. Vol. 1," "Maps. Vol. 2" stamped in gold on the spines. Maps with outline color; geological map of England and Wales hand colored in full color.
Publication List No: 0890.000
Publication Type: World Atlas
Publication Maps: 207
Publication Height cm: 43
Publication Width cm: 37
Image No: 0890128

Digital images and descriptive data © 2000 by Cartography Associates. Images may be reproduced or transmitted, but not for commercial use. For commercial use or commercial republication, contact . This work is licensed under a Creative Commons License. By downloading any images from this site, you agree to the terms of that license.
Important!
Firewalls, or Browser settings that block Pop-up Ads, may prevent correct operation of Insight Java Client or Insight Browser. Test by turning off the Firewall and/or allowing Pop-ups from this site only - if this corrects the problem, adjust your Firewall or Browser settings.


The Insight® Browser and Java client software are products of Luna Imaging, Inc.
If you have comments, suggestions, or need help, contact The David Rumsey Collection at .
home | about | view the collection | recent additions | news | help
Copyright© 2003 Cartography Associates.
All rights reserved.