Kansas. Cram Atlas Company, 1875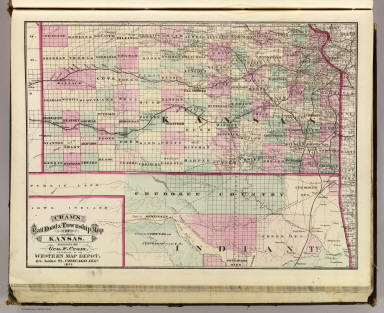 View larger, zoomable image
(turn off pop-up blocker)
Full Title: Cram's Rail Road & Township Map of Kansas. Published by Geo. F. Cram. Proprietor of the Western Map Depot. 66, Lake St. Chicago Ills. 1875.
Author: Cram Atlas Company
Date: 1875
This historical cartographic image is part of the David Rumsey Historical Map Collection, www.davidrumsey.com, a large collection of online antique, rare, old, and historical maps, atlases, globes, charts, and other cartographic items. Read more about the Collection. Or you can view the entire David Rumsey Map Collection in Insight.
Full David Rumsey Map Collection Catalog Record:
Author: Cram Atlas Company
Date: 1875
Short Title: Kansas.
Publisher: New York: Cram Atlas Company
Type: Atlas Map
Object Height cm: 36
Object Width cm: 48
Scale 1: 1,330,560
Note: Map in full color by county. The railroad lines are clearly marked. (Note: The map has been rotated 90 degrees clockwise for readability.)
Reference: P1275.
State / Province: Kansas
Subject: Advertising ; Railroad
Full Title: Cram's Rail Road & Township Map of Kansas. Published by Geo. F. Cram. Proprietor of the Western Map Depot. 66, Lake St. Chicago Ills. 1875.
List No: 5370.017
Series No: 20
Published In: New Commercial Atlas Of The United States and Territories: (Scale, 21 Miles To The Inch.) Showing All Railroads, Stations, Cities, Towns, Villages, Congressional Townships, Etc., Etc. A Complete Shippers' Guide. Drawn And Engraved From The Very Latest Government Surveys. Published By The Cram Atlas Company, New York And Chicago: Western Office, No. 66 Lake Street, Chicago. Entered ... 1875, by The Cram Atlas Company ... Washington, District of Columbia. Printed At The Lakeside Press, Clark And Adams Sts., Chicago.
Publication Author: Cram Atlas Company
Publication Date: 1875
Publication Reference: P1275.
Publication Note: The rarest and most attractive of Cram's atlases. The maps are large folio, with hand color, taken from the same plates as Cram's pocket maps of the same date (or vice versa). All maps are on the same scale, 19 miles to one inch. This issue is five years earlier than the earliest (1880) shown in U.S. Atlases. Later editions were 1878, 1880, 1881, and 1885 (which may be smaller). After 1885, Cram discontinued this atlas and concentrated on the mass produced "Unrivaled Family Atlas" and the "Standard American Railway Atlas." All maps with full hand painted color except for the Rand McNally foldout map which has printed color. Bound in half leather dark brown cloth covered boards embossed with title "The Cram Atlas Company's New Commercial Atlas. Index Page 2." in gold.
Publication List No: 5370.000
Publication Type: National Atlas
Publication Maps: 36
Publication Height cm: 55
Publication Width cm: 42
Image No: 5370017

Digital images and descriptive data © 2000 by Cartography Associates. Images may be reproduced or transmitted, but not for commercial use. For commercial use or commercial republication, contact This work is licensed under a Creative Commons License. By downloading any images from this site, you agree to the terms of that license.
Important!
Firewalls, or Browser settings that block Pop-up Ads, may prevent correct operation of Insight Java Client or Insight Browser. Test by turning off the Firewall and/or allowing Pop-ups from this site only - if this corrects the problem, adjust your Firewall or Browser settings.


The Insight® Browser and Java client software are products of Luna Imaging, Inc.
If you have comments, suggestions, or need help, contact The David Rumsey Collection at
home | about | view the collection | recent additions | news | help
Copyright© 2003 Cartography Associates.
All rights reserved.