South America 1. Letts, Son & Co. 1883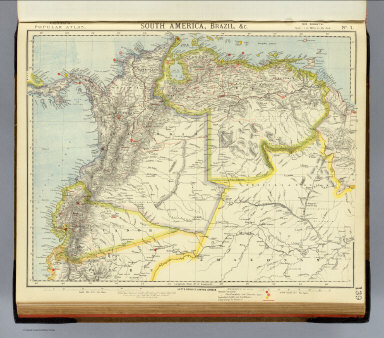 View larger, zoomable image
(turn off pop-up blocker)
Full Title: South America, Brazil, &c. No. 1. Letts's popular atlas. Letts, Son & Co. Limited, London. (1883)
Author: Letts, Son & Co.
Date: 1883
This historical cartographic image is part of the David Rumsey Historical Map Collection, www.davidrumsey.com, a large collection of online antique, rare, old, and historical maps, atlases, globes, charts, and other cartographic items. Read more about the Collection. Or you can view the entire David Rumsey Map Collection in Insight.
Full David Rumsey Map Collection Catalog Record:
Author: Letts, Son & Co.
Date: 1883
Short Title: South America 1.
Publisher: London: Letts, Son & Co.
Type: Atlas Map
Object Height cm: 35
Object Width cm: 42
Scale 1: 6,969,600
Note: Colored map. Relief shown by hachures and spot heights. Shows cities, British consulates, vice-consulates and consular agents, railroads, lights and lighthouses, rivers, etc. Covers Colombia, Venezuela, Panama, Ecuador and parts of Brazil, Guyana and Peru.
World Area: South America
Country: Colombia ; Venezuela
Full Title: South America, Brazil, &c. No. 1. Letts's popular atlas. Letts, Son & Co. Limited, London. (1883)
List No: 5371.136
Page No: 139
Series No: 141
Published In: Letts's popular atlas, being a series of maps delineating the whole surface of the globe, with many special and original features; and a copious index of 23,000 names. Complete edition. Letts, Son & Co. Limited, 33, King William Street, London Bridge, E.C. Factory and works at New Cross, S.E. 1883.
Publication Author: Letts, Son & Co.
Publication Date: 1883
Publication Reference: Cf P900 and World 435 (4 v. in 2, 1881-1883)
Publication List No: 5371.000
Publication Type: World Atlas
Publication Maps: 153
Publication Height cm: 45
Publication Width cm: 38
Image No: 5371136

Digital images and descriptive data © 2000 by Cartography Associates. Images may be reproduced or transmitted, but not for commercial use. For commercial use or commercial republication, contact This work is licensed under a Creative Commons License. By downloading any images from this site, you agree to the terms of that license.
Important!
Firewalls, or Browser settings that block Pop-up Ads, may prevent correct operation of Insight Java Client or Insight Browser. Test by turning off the Firewall and/or allowing Pop-ups from this site only - if this corrects the problem, adjust your Firewall or Browser settings.


The Insight® Browser and Java client software are products of Luna Imaging, Inc.
If you have comments, suggestions, or need help, contact The David Rumsey Collection at
home | about | view the collection | recent additions | news | help
Copyright© 2003 Cartography Associates.
All rights reserved.