(America north) (Anville, Jean Baptiste Bourguignon d, 1697-1782; Pownall, Thomas; Kitchin, Thomas); Robert Laurie & James Whittle), 1794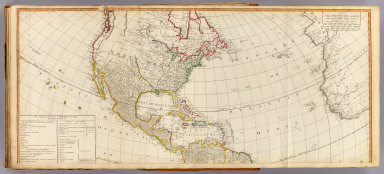 View larger, zoomable image
(turn off pop-up blocker)
Full Title: (A new map of the whole continent of America, divided into north and south and West Indies. North half. Wherein are exactly described the United States of North America as well as the several European possessions according to the Preliminaries of Peace signed at Versailles Jan. 20, 1783. Compiled from Mr. d'Anville's maps of that continent, with the addition of the Spanish discoveries in 1775 to the north of California & corrected in the several parts belonging to Great Britain, from the original materials of Governor Pownall, MP. London, Publish'd by Laurie & Whittle, No. 53, Fleet Street, as the act directs 12th May, 1794)
Author: (Anville, Jean Baptiste Bourguignon d, 1697-1782; Pownall, Thomas; Kitchin, Thomas); Robert Laurie & James Whittle)
Date: 1794
This historical cartographic image is part of the David Rumsey Historical Map Collection, www.davidrumsey.com, a large collection of online antique, rare, old, and historical maps, atlases, globes, charts, and other cartographic items. Read more about the Collection. Or you can view the entire David Rumsey Map Collection in Insight.
Full David Rumsey Map Collection Catalog Record:
Author: (Anville, Jean Baptiste Bourguignon d, 1697-1782; Pownall, Thomas; Kitchin, Thomas); Robert Laurie & James Whittle)
Date: 1794
Short Title: (America north)
Publisher: London: Laurie & Whittle
Type: Atlas Map
Object Height cm: 53
Object Width cm: 118
Scale 1: 13,000,000
Note: Hand colored engraved map. Relief shown pictorially. Shows colonies, cities, Indian tribes, rivers, etc. Includes table: The continent and islands of America as divided and possessed ... Prime meridian: Ferro. Printed on 2 sheets; joined.
Reference: Smith, M.D. Realms of gold, 90; Karpinski CVIII; Cf Wagner 692 (1783 ed.)
World Area: America
Full Title: (A new map of the whole continent of America, divided into north and south and West Indies. North half. Wherein are exactly described the United States of North America as well as the several European possessions according to the Preliminaries of Peace signed at Versailles Jan. 20, 1783. Compiled from Mr. d'Anville's maps of that continent, with the addition of the Spanish discoveries in 1775 to the north of California & corrected in the several parts belonging to Great Britain, from the original materials of Governor Pownall, MP. London, Publish'd by Laurie & Whittle, No. 53, Fleet Street, as the act directs 12th May, 1794)
List No: 2310.077
Page No: (65)
Series No: 79
Published In: (A new universal atlas, exhibiting all the empires, kingdoms, states, republics, &c. &c. in the whole World; being a complete collection of the most approved maps extant; corrected with the greatest care, and augmented from the last edition of D'Anville and Robert (de Vaugondy) with many improvements by Major James Rennel, and other eminent geographers, including all the tracks and new discoveries of the British circumnavigators, Biron, Wallis, Carteret, Captain James Cook, Vancouver, Perouse, &c. &c. 6th Ed. ... London, R. Laurie & J. Whittle, 1802)
Publication Author: Kitchin, Thomas; Robert Laurie & James Whittle
Publication Date: 1802
Publication Reference: P699. Cf Shirley R. Maps in the atlases of the British Library, T.LAU-1c (1799 ed.); NMM 375 (3rd ed. 1801)
Publication Note: See note field above.
Publication List No: 2310.000
Publication Type: World Atlas
Publication Maps: 76
Publication Height cm: 57
Publication Width cm: 41
Image No: 2310077

Digital images and descriptive data © 2000 by Cartography Associates. Images may be reproduced or transmitted, but not for commercial use. For commercial use or commercial republication, contact . This work is licensed under a Creative Commons License. By downloading any images from this site, you agree to the terms of that license.
Important!
Firewalls, or Browser settings that block Pop-up Ads, may prevent correct operation of Insight Java Client or Insight Browser. Test by turning off the Firewall and/or allowing Pop-ups from this site only - if this corrects the problem, adjust your Firewall or Browser settings.


The Insight® Browser and Java client software are products of Luna Imaging, Inc.
If you have comments, suggestions, or need help, contact The David Rumsey Collection at .
home | about | view the collection | recent additions | news | help
Copyright© 2003 Cartography Associates.
All rights reserved.