Baies, Florides, Golfe du Mexique. Poussin, Guillaume Tell, 1794-1876, 1834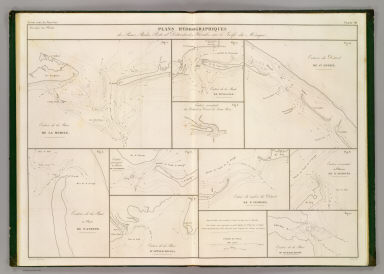 View larger, zoomable image
(turn off pop-up blocker)
Full Title: Plans hydrographiques des baies, rades, ports et detroits des Florides sur le Golfe du Mexique. Dessine par le Major Poussin. Grave par (V.?) Adam. (1834)
Author: Poussin, Guillaume Tell, 1794-1876
Date: 1834
This historical cartographic image is part of the David Rumsey Historical Map Collection, www.davidrumsey.com, a large collection of online antique, rare, old, and historical maps, atlases, globes, charts, and other cartographic items. Read more about the Collection. Or you can view the entire David Rumsey Map Collection in Insight.
Full David Rumsey Map Collection Catalog Record:
Author: Poussin, Guillaume Tell, 1794-1876
Date: 1834
Short Title: Baies, Florides, Golfe du Mexique.
Publisher: Paris: Libraire Anselin; Paris: Libraire Carilian-Goeury
Type: Atlas Map ; Chart Atlas
Object Height cm: 47
Object Width cm: 66
Scale 1: 65,000
Note: Ten engraved maps. Relief shown by soundings and isobaths in English feet. Contents: Fig. 1. Entree de la Baie de la Mobile -- Fig. 2. Entree de la Rade de Pensacole -- Fig. 3. Entree orientale du Detroit ou Canal de Santa Rosa -- Fig. 4. Entrees du Detroit de St. Andre -- Fig. 5. Entree de la Baie ou Rade de St. Joseph -- Fig. 6. Entree principale du Detroit de St. Georges -- Fig. 7. Entree du milieu du Detroit de St. Georges -- Fig. 8. Entree orientale du Detroit de St. Georges -- Fig. 9. Entree de la Baie d'Appalachicola -- Fig. 10. Entree de la Baie d'Ocklockony.
State / Province: Florida ; Alabama
Subject: Shipping
Full Title: Plans hydrographiques des baies, rades, ports et detroits des Florides sur le Golfe du Mexique. Dessine par le Major Poussin. Grave par (V.?) Adam. (1834)
List No: 2329.008
Page No: pl. VIII
Series No: 12
Engraver or Printer: Imprimerie de Lachevardiere ; Adam, V.
Published In: Travaux d'ameliorations interieures projetes ou executes par le Gouvernement General des Etats-Unis d'Amerique, de 1824 a 1831; par Guillaume-Tell Poussin ... Atlas. Paris, Anselin, Libraire, pour l'art militaire, les sciences et les arts, rue Dauphine, No. 36, dans le passage Dauphine. Carilian-Goeury, Libraire, des ponts et chaussees et des mines, Quai des Augustins, No. 41. 1834. Imprimerie de Lachevardiere, rue du Colombier, No. 30.
Publication Author: Poussin, Guillaume Tell, 1794-1876
Publication Date: 1834
Publication Reference: Phillips 1265.
Publication Note: Atlas only. Exceptionally well done maps that show the ambitious public works projects of the time. Maps are without color and bound in quarter leather green textured paper covered boards with "Poussin. Travaux d'amelioration En Amerique. Atlas" stamped in gilt on the spine.
Publication List No: 2329.000
Publication Type: National Atlas
Publication Maps: 10
Publication Height cm: 51
Publication Width cm: 36
Image No: 2329008

Digital images and descriptive data © 2000 by Cartography Associates. Images may be reproduced or transmitted, but not for commercial use. For commercial use or commercial republication, contact This work is licensed under a Creative Commons License. By downloading any images from this site, you agree to the terms of that license.
Important!
Firewalls, or Browser settings that block Pop-up Ads, may prevent correct operation of Insight Java Client or Insight Browser. Test by turning off the Firewall and/or allowing Pop-ups from this site only - if this corrects the problem, adjust your Firewall or Browser settings.


The Insight® Browser and Java client software are products of Luna Imaging, Inc.
If you have comments, suggestions, or need help, contact The David Rumsey Collection at
home | about | view the collection | recent additions | news | help
Copyright© 2003 Cartography Associates.
All rights reserved.