Falls of St. Anthony. Pike, Zebulon Montgomery, 1810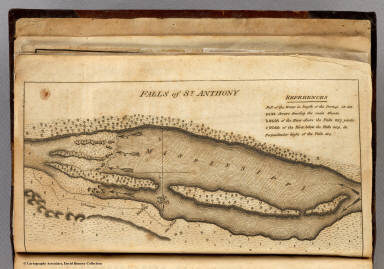 View larger, zoomable image
(turn off pop-up blocker)
Full Title: Falls of St. Anthony.
Author: Pike, Zebulon Montgomery
Date: 1810
This historical cartographic image is part of the David Rumsey Historical Map Collection, www.davidrumsey.com, a large collection of online antique, rare, old, and historical maps, atlases, globes, charts, and other cartographic items. Read more about the Collection. Or you can view the entire David Rumsey Map Collection in Insight.
Full David Rumsey Map Collection Catalog Record:
Author: Pike, Zebulon Montgomery
Date: 1810
Short Title: Falls of St. Anthony.
Publisher: Phila: C. & A. Conrad
Type: Book Map
Object Height cm: 11
Object Width cm: 20
Note: The Falls of St. Anthony shown in great detail with a reference list showing the height, width, and length of the falls. Map uncolored.
Reference: Wheat 297-9; WC 9:1; cf P11024.
Country: Mexico
State / Province: U.S. West
Full Title: Falls of St. Anthony.
List No: 0730.001
Series No: 2
Published In: An Account of Expeditions to the Sources of the Mississippi, and Through the Western Parts of Louisiana, to the Sources of the Arkansaw, Kans, La Platte, and Pierre Jaun, Rivers; ... During the Years 1805, 1806, and 1807. And a Tour Through the Interior Parts of New Spain, When Conducted Through These Provinces, by order of The Captain-General, in the year 1807. By Major Z.M. Pike. Illustrated by Maps and Charts. Philadelphia: Published by C. & A. Conrad & Co. No. 30, Chesnut Street. Somervell & Conrad, Petersburgh. Bonsal, Conrad, & Co. Norfolk, and Fielding Lucas, Jr. Baltimore. John Binns, Printer....1810.
Publication Author: Pike, Zebulon Montgomery
Publication Date: 1810
Publication Reference: Wheat 297-9; WC 9:1; cf P11024.
Publication Note: The five maps which accompany Pike's report are of great importance, especially the two maps of Louisiana which Wheat calls "maps of outstanding historic interest... beautifully drawn." Pike's map of New Spain was copied from Humboldt's manuscript map, although Humboldt did not publish his map until 1811. All maps uncolored and bound into the back of the book. Full leather covers with "Pike's Expeditions" imprinted on the spine.
Publication List No: 0730.000
Publication Type: Exploration Book
Publication Maps: 6
Publication Height cm: 22
Publication Width cm: 14
Image No: 0730001

Digital images and descriptive data © 2000 by Cartography Associates. Images may be reproduced or transmitted, but not for commercial use. For commercial use or commercial republication, contact . This work is licensed under a Creative Commons License. By downloading any images from this site, you agree to the terms of that license.
Important!
Firewalls, or Browser settings that block Pop-up Ads, may prevent correct operation of Insight Java Client or Insight Browser. Test by turning off the Firewall and/or allowing Pop-ups from this site only - if this corrects the problem, adjust your Firewall or Browser settings.


The Insight® Browser and Java client software are products of Luna Imaging, Inc.
If you have comments, suggestions, or need help, contact The David Rumsey Collection at .
home | about | view the collection | recent additions | news | help
Copyright© 2003 Cartography Associates.
All rights reserved.