Search results from Maps Up Close
9 results found for: America
Maps Up Close are interesting details from maps that show unusual features, cartographic conventions, history, graphics, and places. We hope that by focusing on these details, users will discover new ways of seeing and understanding the art of cartography. Click on any of the images below and a new page will open with a live image of the map up close, one that you can pan and zoom, and thus see how the initial zoomed in view fits into the larger map. Clicking on the page map title will return to the initial view.
| | |
| --- | --- |
| | The following are highlights from 1,564 New Maps added to the David Rumsey Collection. All titles may be found by launching the Insight Browser or Java Client and searching under Search/by Publication Author using the author last names below. Or click here to view all 1,564 new maps. |
31 Children's School Atlases ranging in date from 1777 (William Faden, Geographical Exercises, London) to 1875 (Samuel Augustus Mitchell, Ancient Atlas, Philadelphia). Highlights include M.B. Moore, Geographical Reader for Dixie Children (a rare Civil War era school atlas published in Raleigh, North Carolina); American school atlases published by Morse, Worcester, Carey, Cornell, Cummings, Woodbridge, Willard, Grigg, Adams, Goodrich, Huntington, Olney, Fitch, Mitchell, and Smith; a manuscript school atlas by Francis Bowen, 1810; J.B. Clouet, Geographie Moderne, Paris, 1787; Delamarche and Lattre, Petit Atlas Moderne, Paris, 1800; and Edward Patteson, General and Classical Atlas, Surrey, 1804. View 31 School Atlases
A Chart of North and South America, 1753
Green, John; Jefferys, Thomas, London
First Edition of this important chart showing North and South America and the Pacific and Atlantic oceans. The first chart to label Behring's Straits, and the most accurate map of its time in establishing more correct placements of the coasts of the Americas and Northeastern Asia. View Chart
A New General Atlas, 1817
Thomson, John, Edinburgh.
86 Maps and text pages. The first edition of an important atlas of the World. This atlas was inspired by Pinkerton's Modern Atlas of 1815 (see our copy), which it resembles. View Atlas. View Thomson and Pinkerton Atlases together
Atlas Encyclopedique Contenant les Cartes and les Planches Relatives a la Geographie Physique, 1827
Desmarest, Nicholas; Bury de Saint-Vincent, M., Paris
52 maps, views, and text sheets. An early physical atlas. View Atlas
Atlas Universel de Geographie Ancienne et Moderne, 1833
Lapie, M. (Pierre); Lapie, Alexandre Emile, Paris
54 Maps and text pages. First edition, dated 1829 on the title page but with some maps dated 1833. The Carte des Etats-Unis is a magnificent map, showing the continent from coast to coast. View Atlas
Traveaux d'Amelioratins Interieures Projetes ou Executes par le Gouvernement General des Etas-Unis d'Amerique, 1834
Poussin, Guillaume Tell, Paris
14 Maps and text pages. Exceptionally well drawn maps and plans that detail the ambitious public works projects (primarily canals) undertaken in the United States in the period 1824 to 1831 View Atlas
Statistical Atlas of the United States, 1874
Walker, Francis A; United States Census Office, Washington
57 Maps, diagrams, and text pages. The first statistical atlas published by the United States Government, based on the census of 1870. View Atlas
Report on a Plan for San Francisco, 1905
Burnham, Daniel H., San Francisco
55 Maps, diagrams, views, and text pages. First edition. Shows an elaborate plan to redesign San Francisco with the creation of huge boulevards cutting across the existing street grid. The earthquake and fire that occurred the following year, 1906, rendered the scheme obsolete. View Book
(Various U.S. State, County, and City Atlases), 1872-1903
Various Authors
Click on each title to view the atlas.
G.M. Hopkins & Co.
Atlas of the Cities of Pittsburgh and Allegheny, 1872
White, M. Wood; Gamble, William H.; Miller, M.A..
Atlas of the State of West Virginia, 1873
Martinet, Simon J.; Walling, H.F.; Gray, O.W.; Lloyd, H.H.
Atlas of the State of Maryland and the District of Columbia, 1873
Fuller, Henry; J.B. Beers & Co.
Farm Line Map of the City of Brooklyn, 1874
Hopkins, Griffith Morgan
City Atlas of Providence, Rhode Island (3 volumes), 1875
Everts & Kirk
Atlas of Nebraska, 1885
Beers, F.W.; (Watson, Gaylord)
Atlas of the Hudson River Valley, 1891
Bromley, George Washington; Bromley, Walter Scott
Atlas of the City of Boston, Boston Proper and Roxbury, 1895
Richards, L.J.; J.P. Brown & Co.
Atlas of Dorchester, West Roxbury, and Brighton, City of Boston, 1899
Bromley, George Washington; Bromley, Walter Scott
Atlas of the City of Cambridge, Massachusetts, 1903
| | |
| --- | --- |
| | Highlights from 1,406 New Maps added to the David Rumsey Collection. All titles may be found by searching under Search/by Publication Author using the author names below. Or click here to view all 1,406 new maps. |
Atlas General, 1771
Monsieur d'Anville
48 maps, including several important maps of the Americas.
South America, 1814
Aaron Arrowsmith
The huge (over 8 feet tall) six sheet wall map originally issued in 1811.
Times Atlas of the World, 1922
John George Bartholomew
117 maps, the second edition of this influential 20th century atlas and the first edition to use Bartholomew's maps.
Maps of Upper and Lower Canada, 1815 - 1831
Joseph Bouchette
Seven large maps by the Bouchette family, including highly detailed maps of the Montreal and Quebec districts.

New Universal Atlas, 1835
David Burr
63 maps, first edition.
Map of Massachusetts, 1801
Osgood Carleton
The first official map of the State.
New Commercial Atlas Of The United States and Territories, 1875
George Cram
35 maps, the rare first edition of Cram's short-lived large format US atlas.
Mapa Geografico de America Meridional, 1799
Cruz Cano y Olmedilla
The London edition, published by William Faden, of this important early map of South America; originally issued in 1775 in Madrid.
Royal Illustrated Atlas, 1872
A. Fullarton & Co
75 maps, one of the last decorative atlases published in the 19th century.

Los Angeles Basin, 1880
William Hammond Hall
Large unrecorded manuscript topographical map, one of the earliest to show the Los Angeles area in detail.
Illustrated Atlas of the Upper Ohio River and Valley, 1877
Eli Hayes
141 maps and views from this rare "county style" atlas showing the cities, towns, businesses, and residences of the Ohio River Valley from Pittsburgh to Cincinnati.
Atlas Methodicus, 1719
J.B. Homann
One of the earliest teaching atlases.
General Atlas, 1790
Thomas Kitchin
35 large maps constructed from 62 separate sheets.
Atlas Minor, 1736
Herman Moll
62 maps. Includes 18 maps of the Americas.
A Modern Atlas, 1815
John Pinkerton
64 maps. The first edition.
Business Atlas of the United States, 1879
Rand McNally
50 maps, the first atlas of the U.S. by Rand McNally.
Atlas Universel, 1757
Gilles and Didier Robert de Vaugondy
109 maps, first edition. Includes 25 detailed maps of French Provinces, 7 maps of the Americas, and 5 added postal maps of European countries.
Historical Atlas of Wisconsin, 1878
Snyder, Van Vechten & Co
142 maps and views. Detailed maps of each county and most cities, plus lithographic views of farms, commercial buildings and prominent citizens.
Maps Accompanying the Annual Report of the General Land Office, 1866
U.S. General Land Office
23 maps, including maps of all the western states and territories.
Atlas of the State of Illinois, 1876
Warner & Beers
155 maps and views. County maps, detailed Chicago maps, views.
Map of North America, 1823
James Wyld
Rare, first edition of this important map, noted for its accurate depiction of the Pacific Northwest and its wildly inaccurate showing of the American Southwest.

Plus over 100 wall maps of the World and the Americas. Includes maps of the United States by Samuel Lewis and Charles Varle, 1817; John Melish's Map of Pennsylvania, 1826; Herman Boye's Virginia, 1827; William Eddy's California, 1854; William Scully's Brazil, 1866; two maps of Oahu, Hawaiian Islands, 1881 and 1899; John Cary's World, 1819; and many others.
A selection of over one hundred  rare and unique maps from the David Rumsey Historical Map Collection are on display through January 2004 at the San Francisco International Airport. The exhibit explores themes of mapping exploration, settlement, travel, geology, navigation, military campaigns, railroads, and cities.  Read an article about the exhibit.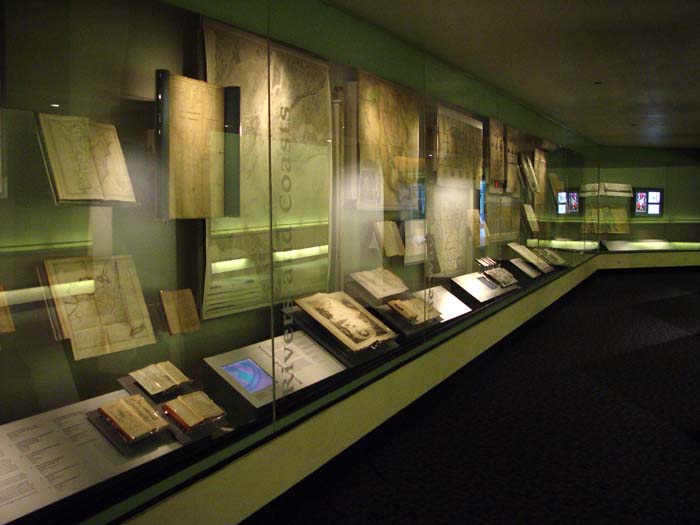 A view of part of the exhibit installation along the corridor between Terminals 1 and 2 at the San Francisco Airport.
| | |
| --- | --- |
| | |
| Pictured above is a first edition map from 1814 of Lewis and Clark's track across the Western portion of North America. Below it is a map from 1810 of the upper Mississippi River Valley by Zebulon Montgomery Pike. | Among the treasures from the collection is an 8 by 8 foot wall map by Henry Popple from 1733. Once owned by King George II, as indicated by the seal in the upper right detail, this  map was regarded as the most accurate of its day. |
| | |
| The exhibit combines the physical maps and books with digital representations and videos of map details and also allows the viewing of maps not included in the exhibit. | The installation includes 74 maps, atlases, guidebooks and charts from David Rumsey's private map collection, which numbers more than 150,000 pieces. |
The following are highlights from 1,238 New Maps and Images added to the David Rumsey Collection. Included are John Cary's comprehensive road map of England and Wales from 1794 (plus a composite image joining all 81 sheets), John Wilson's important Map of South Carolina, 1822, Pick's time-line historical chart from 1858, geological and oil maps of Pennsylvania, 2 editions of Rand McNally's Business Atlas, 3 editions of Johnston's Royal Atlas, the atlas edition of Viele's map of New York City from 1874, and more. All titles may be found by clicking on the View links below. Or click here to view all 1,238 new maps.

Cary's New Map of England and Wales, With Part of Scotland, 1794
Cary, John, London
78 Maps. Highly detailed maps, including a large composite image joining all the maps together. The map sheets are bound in book form in this copy, but the maps were also issued joined as a wall map. The maps are especially detailed with information on the roads of the period. From the title: "On Which Are Carefully Laid Down All the Direct and Principal Cross Roads, the Course of the Rivers And Navigable Canals ... Delineated from Actual Surveys: and materially assisted From Authentic Documents Liberally supplied by the Right Honourable the Post Masters General." View Atlas

The large composite map joining all sheets may also be viewed in Google Earth

Map of the United States and British Provinces of Upper and Lower Canada, 1816
Shelton, W.; Kensett, T., Connecticut
This highly detailed and accurate map must be one of the best of its period.  It is superior to both the Arrowsmith and the Tardieu maps and incorporates information from Pike's maps and the Bradley postal maps.  There are two very interesting inset maps and a commentary on ancient fortifications along the Ohio River.  View Map

Map Of South Carolina, 1822
Wilson, John; Tanner, Henry S.,  Philadelphia
The first large scale map of South Carolina made after independence. With an inset map of Charleston Harbor. Wilson was the State Civil and Military Engineer and the creation of an accurate state map reflecting all the new internal improvements was one his responsibilities. Henry Tanner, the engraver and publisher, refers to the resulting map as "one of our best and most scientific maps..."   View Map

Western Hemisphere; Eastern Hemisphere, 1825
Gardner, James, London
With 48 inch spheres, this may be one of the largest World Maps produced in the early 1800's. Gardner's map is fairly up to date in the American Northwest, less so in the plains area. The drawing and engraving of this map are very elegant and spare.  In eight sheets, dissected into 6 sections each, and mounted on linen with dark green silk edging. View Map

An Atlas of Ancient Geography, 1826
Tanner, Henry, Philadelphia
16 maps.  Maps in full color. Maps are divided into three categories: Geographia Sacra, Ecclesiastica, and Antiqua.  View Atlas
Atlas Universel Pour servir a l'Etude De La Geographie Et De L'Histoire Anciennes et Modernes, 1827
Vivien de St Martin, L., Paris
48 maps.  First edition. The maps are well done, slightly smaller than the contemporary Brue and Lapie maps (except in the case of the double sheet maps),   Nonetheless, the entire atlas achieves a beautiful overall effect.  View Atlas
Atlas Universel d'Histoire et de Geographie Anciennes et Modernes, 1835
Duval, Henri, Paris
40 maps and diagrams.  A unusual school atlas with hand lettered lithographed plates, each signed by Duval. Includes thematic maps on the natural world, astronomy, geology, and other subjects.  View Atlas
Sharpe's Corresponding Atlas, 1849
Sharpe, J.; Lowry, J.W.,  London
54 maps.  An atlas that attempts to use projection to aid understanding of world geography.  In the preface, Sharp explains the use of only four scales (plus one for Switzerland) among the 54 maps, done with the intent to facilitate equitable comparison and comprehension of world regions.  View Atlas
Black's Atlas Of North America, 1854
Black, Adam & Charles; Bartholomew, John, Edinburgh
20 maps.  All maps are by John Bartholomew. This is the first use of printed color by Black and Bartholomew. A fine atlas, scarce, and especially interesting when compared to another similar but more elaborate U.K. contemporary publication on North America, Rogers and Johnston's Atlas of the United States, 1857.  View Atlas

General Atlas Of The World, 1854
Black, Adam & Charles; Hall, Sidney; Hughes, William, Edinburgh
70 maps.  This edition represents a significant change of maps for Black; Phillips lists the entire contents, which he rarely does for an atlas of this period, indicating his view of its importance.  The map of Mexico includes the California Gold Regions colored in gold. View Atlas
Geological Map Of The State Of Pennsylvania, 1858
Rogers, Henry Darwin, Edinburgh
This large map was intended to accompany the text volumes of the Final Report on the First Geological Survey of Pennsylvania, 1858. The map is fully colored to show geological formations, and has nine sections below the map. W. & A.K. Johnston engraved the map, further evidence of their collaboration with Rogers in addition to the 1857 Atlas of the United States.   View Map

Tableau De L'Histoire Universelle depuis la Creation jusqu'a ce jour, 1858
Pick, Eug,, Paris
Date is estimated. This is a timeline historical map, The map has vignettes of people, buildings, historical scenes and important places in the history of the world. It begins with Adam and Eve and the Garden of Eden (dated as 4963 BC) and shows the passage of history as the flows of various rivers, ending in the time the map was made, 1858.  The United States is given only brief mention as a branch of the river representing Great Britain.  Full color. Dissected into 9 sections and edged in white cloth.  View Map
Map of the Centre Oil Region From Oil City To Parkers Landing , 1871
Wrigley, Henry E.., Titusville
A unique, very large scale map of the center oil region (the largest scale we have seen) made by the photographic process. Henry Wrigley was a civil engineer active in the oil region who self published a series of five oil region maps by the photographic process; on the map he states "By this means (photography) every one can be kept constantly advised of the progress of all developments and possess the information desired at the time he most needs it."  View Map
Topographical Atlas Of The City Of New York Including The Annexed Territory, 1874
Viele, Egbert L., New York
Larger version of Viele's 1865 New York Map in Atlas form, in original printed tan paper wraps reading "Topographical Atlas Of The City Of New York.  By Egbert L. Viele.  1874," with the sheets unfolded.  According to Stokes, this edition was prepared from new surveys by Eugene Quackenbush. On five sheets; full color indicating meadow, marsh, and made lands.  View Atlas
The Royal Atlas Of Modern Geography, 1879
Johnston, Alexander Keith, Edinburgh and London
51 maps.  An updated edition of an atlas that was first published in 1861 and continued publication into the early 20th century.  View Atlas
Atlas Universel de Geographie Moderne. Physique, Politique, Historique, Industriel, Commercial et Militaire, 1882
Jouvet et Cie., Paris
40 maps.  A thematic and physical atlas with well executed maps.  View Atlas
Mitchell's New General Atlas, Containing Maps Of The Various Countries Of The World, Plans Of Cities, Etc., 1886
Mitchell, Samuel Augustus Jr., Philadelphia
73 maps.  At this late date in the run of Mitchell Atlases, William Bradley of Philadelphia was the publisher with Mitchell's own role no longer clear.  View Atlas
Mitchell's New General Atlas, Containing Maps Of The Various Countries Of The World, Plans Of Cities, Etc., 1886
Mitchell, Samuel Augustus Jr., Philadelphia
68 maps.  Association copy per W. H. Gamble (fl. 1867-1887), Geographer, author of handwritten transmittal to Mrs. Emmie Johnson, tipped into lining paper, along with Gamble's card.  Gamble made many of the maps in the Mitchell atlases. Although the date is the same as the 1886 copy above, there are many changes to the maps throughout the atlas.  View Atlas
Rand McNally & Co.'s Enlarged Business Atlas And Shippers' Guide , 1889
Rand McNally and Company., Chicago
93 maps.  1st edition in this format was 1885. This is the 18th edition.  With printed color.  Extensive coverage of railroads.  Includes all text pages which have an extensive index of places, railroads, county seats, and more. View Atlas
The Royal Atlas Of Modern Geography, 1893
Johnston, Alexander Keith, Edinburgh and London
54 maps.  Another edition of Johnston's world atlas, all maps now in printed color.  View Atlas

Rand - McNally Official Railway Map Of The Pacific Coast States Including Territory East To Denver, 1901
Rand McNally and Company, Chicago

A large scale map of the American west from central Colorado to the coast. Shows all railroads in operation, topographical features and public surveys. It is copyrighted in 1901 with the present title (indicating that it may be the first edition in this form) and in 1893 and 1898 as "Rand, McNally & Co.'s Standard Map of the United States" (suggesting that it may have been derived from a larger map of the entire U.S.).  

View Map

Rand McNally & Co.'s Enlarged Business Atlas And Shippers' Guide, 1903
Rand McNally and Company, Chicago
102 maps.  This is the 33rd edition. Maps change from the 1890's editions - they are now similar to the Large Indexed Atlas. Complete with all text pages and indexes of places, railroads, and more. View Atlas
Johnston's Royal Atlas Of Modern Geography, 1912
W. & A.K. Johnston, Edinburgh and London
54 maps.  Preface by G.H. Johnston. Alexander Keith Johnston's name is dropped from the title page. Maps are printed in outline color with the exception of the full color North and South Polar Charts.  This is a very late edition of the Royal Atlas, the final year of publication shown in Phillips being 1919.  View Atlas
Campfire Rings in the Backcountry of Yosemite National Park, 1972
Holmes, Joseph Edward, Berkeley
Hand drawn annotations on twelve U. S. Geological Survey 15-minute topographical basemaps. A series of symbols represent the different sizes of about 4500 fire rings and corresponding trampled areas, all from an inventory taken in the summer of 1972.. Plotting of fire rings follows a complex protocol. Detailed explanatory legend. Original in the Yosemite National Park Archives.  View Map
Below are highlights from 764 new maps and images recently added to the David Rumsey Collection.  Included are John Cary's 1790 Survey of the High Roads From London - an early use of strip road maps, the Atlas Classique De La Geographie - an 1839 teaching atlas by C.V. Monin with Monin's version of the classic Mountains and Rivers plate by Bulla, and Rand McNally's monumental 1924 Commercial Atlas Of America, with some of the most detailed early highway maps of the U.S. along with extensive railroad coverage at a time when the new highway system was beginning to challenge railroads as the most important transportation network in America.  Also included  are over 240 separate wall maps, case maps, pocket maps, or charts which are distinguished by their large physical size (often over 8 feet in the long dimension), requiring special photographic and software processes to create accurate digital images, resulting in very large digital files - but large map images can be examined and explored as easily as smaller map images, using zooming and panning features, and the amount of cartographic information in the larger maps is much greater.  Highlights of this group of maps include Rand McNally's massive thirteen sheet Shippers' Railroad Map of the United States 1891 (12x20 feet, over 10GB file size), nine issues of Mitchell's Reference and Distance Map of the United States from 1834 to 1846 (group shown includes a tenth issue already online), Joseph Scheda's 20 sheet richly detailed map of the Austrian Empire in Central Europe in 1856 (5GB file size), and more.  All titles may be found by clicking on the View links or images below. Or click here to view all 764 new maps.

Early Wall and Case Maps of the United States, 1796 to 1833
Arrowsmith, Tardieu, Carleton, Lewis, Lay, Varle, Robinson, and Vance
12 large maps of the eastern United States by various publishers over a period of 37 years from 1796 to 1833.  All of the maps borrow from each other, gradually adding updated and more accurate geographic information over time. The Arrowsmith maps printed in London are among the earliest to show the young United States, followed by updated copies made in Paris by Tardieu, Carleton's version published in Boston, then the very large wall maps by Lewis, and other variations by Lay, Varle, Robinson, and Vance. View Maps

Cary's Survey of the High Roads From London, 1790
Cary, John, London
An early strip map atlas of the roads leading outward from London, in all directions. The title page lists some of the many attributes of the strip map sheets: "On a Scale of one Inch to a Mile; wherein Every Gentleman's Seat, situate on, or seen from the Road, (however distant) are laid down, with the name of the Possessor; to which is added The Number of Inns on each separate route; also, the different Turnpike Gates, shewing The Connection which one trust has with another." View Atlas


English road atlases like this one no doubt influenced contemporary American road books such as Christopher Colles' Survey of the Roads of the United States of 1789 and The Traveler's Directory by Moore and Jones, 1802. 

Map of Pennsylvania, 1822
Melish, John, Philadelphia
First edition. A large wall map of Pennsylvania and one of the finest maps of the state in the early 19th century. Compared with the 1826 case map edition, there are many changes. The 1826 edition adds the delineation of topography adjoining the river systems, roads in almost every county, numerous changes in the emerging coal regions in the east central part of the state, more mountains and plateaus. View Map

Atlas Classique De La Geographie, 1839
Monin, C.V., Paris
A very sophisticated college atlas; the mountains and rivers table has no engraver listed but is clearly derived from or by Bulla, the author of the first table in this format published in 1826. See Garner's chart of 1823, and see our blog post on mountains and rivers maps for interesting comparisons. There are also two excellent thematic plates: Tableau de Geographie Physique and the Tableau de Systeme Solaire. View Atlas

United States Of America, 1830, 1832, 1834
Tanner, Henry S., Philadelphia
Three editions of Henry Tanner's large and detailed case map of the United States are added to the online collection, dated 1830, 1832, and 1834, which when added to the 1829 and 1839 editions already online, give an excellent 10 year view of the changes to this important map and to the country from 1829 to 1839.  View All 5 Editions of the Map

Nine Editions of Mitchell's Reference & Distance Map of the United States, 1834 - 1846
Mitchell, Samuel Augustus, Philadelphia
Mitchell's Reference & Distance Map of the United States was one of the most important American wall maps produced in the 1830's and 1840's.  It was drawn and engraved by James H. Young. The map was large -about 5ft tall and 6ft wide. Shown in this group are the nine new online editions plus a tenth edition already online.  View Maps

Map of the United States Of North America, 1842
Burr, David H., London
This large four sheet wall map of the United States west to the 100th meridian must have been intended to accompany Burr's 1839 thirteen sheet American Atlas of postal wall maps. The American Atlas has a large map of the United States from coast to coast, but it lacks the detail of this wall map, which shows most of the postal roads, canals, and railroads that are delineated on the large scale individual state maps of the American Atlas. That detail makes this wall map one of the best large area road maps of the United States as a whole, of the period - more detailed than Tanner's Map of the United States or Mitchell's Reference and Distance Map of the United States, shown above. View Map

Stream Of Time, Or Chart Of Universal History, From The Original German Of Strass. Revised By D. Haskel, 1842
Colton, J.H., New York
Stream of Time maps were popular in the second half of the 19th century (see our 1858 Tableau De L'Histoire Universelle by Pick) and later, but this map or diagram by Colton is an early example, at least in the United States. The period covered starts with the Creation in 4004 BC and extends down to 1842. The bottom of the map has an explanation which states that "Each Nation is represented by a stream which is broken in upon or flows on undisturbed as it is influenced by the accession of Territory or the remaining at Peace." View Map

Maps of the State of Maine, 1844 - 1862
Greenleaf Moses; Colton, J.H.; DeSilver, Charles; Walling, H.F.; Chase, J. New York, Philadelphia, Portland
Five maps showing Maine's evolution over an 18 year period of great change and expansion. 2 wall maps, 2 pocket maps, and 1 case map. View Maps


View all Maine Maps in the online Collection.

General - Karte Des Oesterreichischen Kaiserstaates, 1856
Scheda, Josef, Wien
Joseph Scheda was an Engineer in the Geographic Corps, Militarisch Geografischen Institute, Austria. His map shows the extent of the Austrian Empire in 1856. It is comprised of 20 sheets, each dissected into 6 sections. Incredible detail throughout the map. A triumph of Austrian/German engraving. The 20 sheets cover most of central and southern Europe. A digital composite image joins all 20 sheets together in one large map. View Maps

Map of The World On Mercator's Projection, 1847 and 1857
Colton, J. H.; Johnson, D. Griffing, New York
One of the great American World Wall maps of the period. Colton took over the publishing of this map in 1849. The 1847 edition is by Johnson and the 1857 edition is by Colton. Table of distances. Shows numerous routes followed by historic mariners including observations of birds on the high seas. The 1857 edition has numerous annotations in French by a traveler going around the world.  View Maps

The Cottage Ornament, 1856
Ensign, Bridgman & Fanning, New York
This is an unusually decorative map by a group of New York map publishers known for their use of portraits, views, and information graphics (the universal Dial Plate showing times at different places around the world, etc.) on their maps. In this large wall map they seem to have added all the views used in all their different publications in one map. The map's title is an understatement. View Map

Map Of The Vicinity Of Philadelphia, 1860
Lake, D.J.; Beers, S.N., Philadelphia
A very large, detailed map showing land owners around Philadelphia. This copy is one of eight issues of the map (Ristow). This issue has inset maps and business directories of Philadelphia, Germantown, Frankford, Bridesburg plus five small towns (all at the top), and Manayunk, Falls of Schuykill, Hestonville, Paschallville, Tacony and Holmesburg at the bottom. Other issues of the map have Philadelphia and Trenton and Philadelphia and Camden in the titles. Lake and Beers may have done eight issues to cover different parts of the local market, much in the manner of Beers' six different issues of his Atlas of New York and Vicinity of 1867-8. The date of 1860 on the map has been changed to 1869 by someone drawing the "9" in place of the "0" which probably had rubbed off. View Map

The Washington Map Of The United States, 1861 and 1862
Smith, Robert P.; Taintor, S. & Co., New York and Philadelphia
Four editions from 1861 and 1862 of this huge and important wall map of the United States, published on the eve of the U.S. Civil War. The 1862 edition is one of the earliest maps to show the states who "claim to have seceded from the United States" in a small note on the right below the title. There are many inset views, portraits of the Presidents in the borders, and thematic inset maps. Smith also published a similar wall map in 1862, the New Naval and Military Map of the United States, which explicitly references the Civil War that had just begun. View Maps

Atlas Universel De Geographie Physique, Politique, Ancienne Et Moderne, 1875
Brue, A.H.; Levasseur, E., Paris
The last edition seen of the Brue Atlas Universel which began in 1822. E. Levasseur was brought in by the publisher to make updates to all the maps, with varying degrees of success. There is an attempt to improve the American maps from the 1866 edition, but they are still ridiculously outdated. Nonetheless, this is a handsome relic of what was once a great atlas. One of the two world maps is unusual in showing geologic formations on several continents. A newly added Tableau Synthetique de Cosmographie provides graphical and textual depictions of several attributes of planetary systems and the earth. The Avertissement pages list in detail the improvements made in the map sheets. View Atlas

Historical Map Of The United States Showing Early Spanish, French & English Discoveries And Explorations Also Forts, Towns & Battle Fields Of Historic Interest, 1876
Blanchard, Rufus, Chicago
This map was published for the 1876 U.S. Centennial celebrations and reflects Blanchard's growing interest in American history during the mid 1870's. Shows historical events on a large map of the Eastern United States from Columbus to about 1840. Six inset facsimiles of early maps. A tablet of history is mounted on the verso.  View Map

Paris Et Ses Environs. Carte Geologique Detaillee. Carte Topographique De L'Etat Major, 1890
Service Geologique Des Mines (France), Paris
This map has incredible detail, showing the geological formations around Paris plus the topographical depiction of the area at the end of the 19th century. 4 sheets, each dissected into 18 sections, mounded and edged with linen. Plus a composite image of all 4 sheets joined together. With printed full color by geological formations.  View Map

Rand, McNally & Co.'s New Shippers' Railroad Map of the United States, 1891
Rand McNally, Chicago
This is a huge 13 part map of the United States railroads from the east coast to the 105th meridian. When all 13 parts are joined, they form a map more than 12 feet high by 20 feet wide. Railroads are shown in great detail at a scale of 8 miles to 1 inch, making this one of the largest scale railroad maps of the late 19th century. 2 additional maps show the U.S. from the west coast east to the 93rd meridian, at a smaller scale.View Maps

Lines Of The Bell Telephone Companies. United States And Canada, 1910
American Telephone and Telegraph, Boston
Shows the extent of telephone lines in the U.S. and Canada in 1910. The long distance lines are primarily in the eastern half of the country, with one line running as far west as Denver. There are no long distance lines in the west, and few local lines except in California. However, there are many lines in the mid west, with Iowa having greater phone development than Pennsylvania. A fascinating map showing the growth of the phone system at an early stage. View Map

Andrews' Schoolroom Chart Of Geographical Illustrations, 1915
Rutley, F., London
Date is approximate. A wonderful large school chart intended to show all kinds of Geographical Illustrations and how they convey information. Maps include: Map Of Europe, untitled birds eye view of land formations, The Earth In Space, The World In Hemispheres, Zones (also showing mountains of the world), The Seasons, Hemispheres Shewing The Proportion Of Land To Water, and Points Of The Compass (showing rivers of the world). Profile is titled "Section Of The Earth's Crust." View Map

Rand McNally Commercial Atlas of America, 1924
Rand McNally and Company, Chicago
This edition has excellent auto route maps of the entire United States. The atlas combines detailed railroad maps and distance maps based on railroads, with the new and growing automobile road system maps showing the road "trail" markings which we presume are an early attempt to provide consistent naming of roads that extend beyond local routes. In addition there are copious indexes showing place names, railroads, population statistics, post offices, telegraph stations, and more. The maps of large cities show the location of major railroad depots, stations, and yards. Maps are often with printed color. View Atlas

The Histomap. Four Thousand Years Of World History. Relative Power Of Contemporary States, Nations And Empires, 1925
Rand McNally and Company, Chicago
A classic 20th century version of a stream of time map showing the flow of history from 2000 B.C. to 1925. The printed sheet of explanation that accompanies the map states: "To the casual reader a Histomap will open a new field of thought. It will enlarge his vision and add zest to his reading. To the student of history it is a necessary auxiliary to that subject, as necessary as the map is to geography and should form the basis from which the intelligent reader can widen and deepen his knowledge by further reading. The Histomap fills a long felt need. It is modern in theory and practice.  It presents an actual picture of the world's history bristling with significant facts in orderly correlation, with which the reader will easily associate, (and therefore remember) all the related facts and ideas that he may pick up in his daily reading. Only by this active association of newly acquired facts and ideas into an orderly background of general history can the reader hope to remember and understand their significance and to appreciate the essential continuity and unity of the histories of all peoples.  Accomplishing this he approaches that ideal of every intelligent reader, a true understanding of the struggles of the past and some degree of true vision of the future." View Map
The Digital Public Library of America (DPLA) is partnering with the David Rumsey Map Collection to provide online access to tens of thousands of significant historical maps and images. As part of the relationship, David Rumsey will provide metadata for over 38,000 maps and images, making the entirety of his notable online collection instantly accessible via the DPLA website and API­.
The Eagle Map of the United States. 1833. Joseph and James Churchman, Philadelphia. In: Rudiments of National Knowledge, Presented To The Youth Of The United States, And To Enquiring Foreigners, 1833.
A couple prominent examples of items from the Rumsey collections available through the DPLA are The Eagle Map of the United States, produced by Joseph and James Churchman, Philadelphia, 1833, (view on the DPLA), and the Map of Lewis and Clark's Track, Across the Western Portion of North America, produced in 1814 (view on the DPLA). Other noteworthy items from Rumsey's collections range from maps found in historic atlases to images of three-dimensional objects such as globes.
"I am very excited to have my digital library of historical maps added to the DPLA," Rumsey said. "Maps tell stories that complement texts, images, and other resources found in the growing DPLA library. And the open content policies of my online library fit perfectly with DPLA's mission to make cultural resources freely available to all. I see DPLA as reinvigorating the role of public libraries in educating children and adults in the digital age. I hope that my participation can serve as an example to others with private collections to share them with the public through the DPLA. Private collectors have always helped to build libraries and now they can do the same with digital cultural assets."
"David Rumsey's incredible collection of historical maps is one of the great private collections in the United States," added DPLA Executive Director Dan Cohen. "What he has been able to assemble and make broadly available is simply astonishing. It is an honor to have these maps as part of the DPLA, and together to help others discover what their communities looked like in the past. We thank David for his generosity."
Rumsey, President of Cartography Associates, a digital publishing company based in San Francisco, began building a collection of North and South American historical maps and related cartographic materials in 1980. His collection, with more than 150,000 maps, is one of the largest private map collections in the United States. In 1995, Rumsey began the task of making his collection public by building the online David Rumsey Historical Map Collection. Currently the online web site has over 38,000 high-resolution images of maps from his collection.
In 2009, Rumsey committed to donating his entire collection – both physical and digital – to Stanford University, which is currently creating an all-new Map Center to house it.
Rumsey's online collection of maps is free to the public and is updated monthly. All of the online maps are searchable via the DPLA.
About the Digital Public Library of America
The Digital Public Library of America brings together the riches of America's libraries, archives, and museums, and makes them freely available to the world. It strives to contain the full breadth of human expression, from the written word, to works of art and culture, to records of America's heritage, to the efforts and data of science. The DPLA aims to expand this crucial realm of openly available materials, and make those riches more easily discovered and more widely usable and used. More information is online at http://dp.la.
About the David Rumsey Map Collection
The David Rumsey Map Collection was started over 25 years ago and contains more than 150,000 maps. The collection focuses on rare 18th and 19th century maps of North and South America, although it also has maps of the World, Asia, Africa, Europe, and Oceania. The collection includes atlases, wall maps, globes, school geographies, pocket maps, books of exploration, maritime charts, and a variety of cartographic materials including pocket, wall, children's, and manuscript maps. Items range in date from about 1700 to 1950s.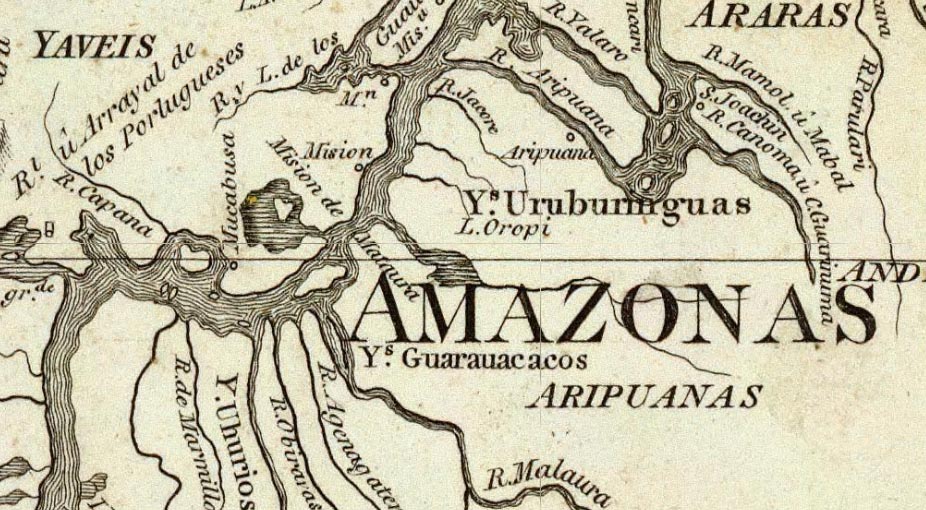 The upper Amazon River in 1799 was home to countless Indian settlements which are detailed on this Map of South America by William Faden, a London map publisher who in this map republishes the Mapa Geografico de America Meridional of 1775 by the Spanish mapmaker Cruz Cano y Olmedilla.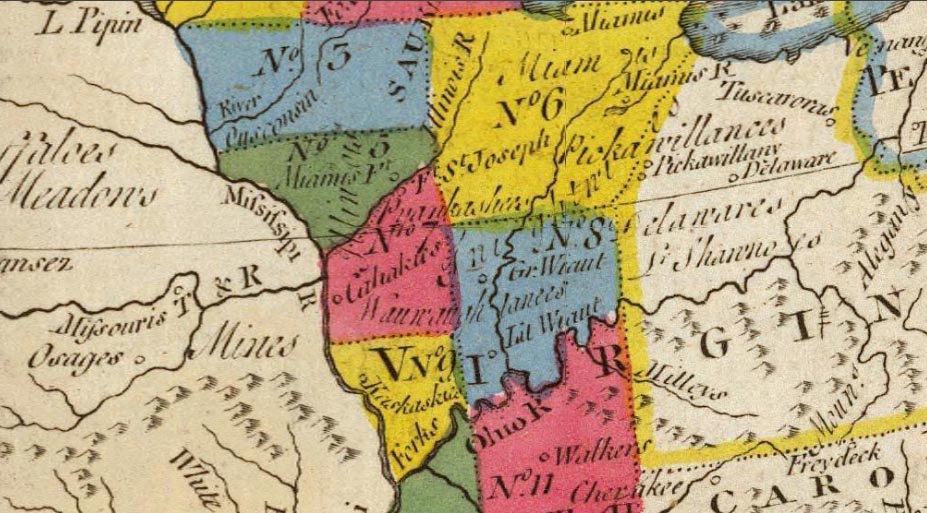 In his Map of North America, 1778, Jonathan Carver lays out 11 proposed territories or colonies that never came into existence, but are interesting to see today. Each territories is formed so that it has access to a river, which was the primary mode of transportation at the time. In 1784, Jefferson proposed 14 territories in roughly the same area, which may have been influenced by Carver's plan. Carver's book and other maps can be seen here.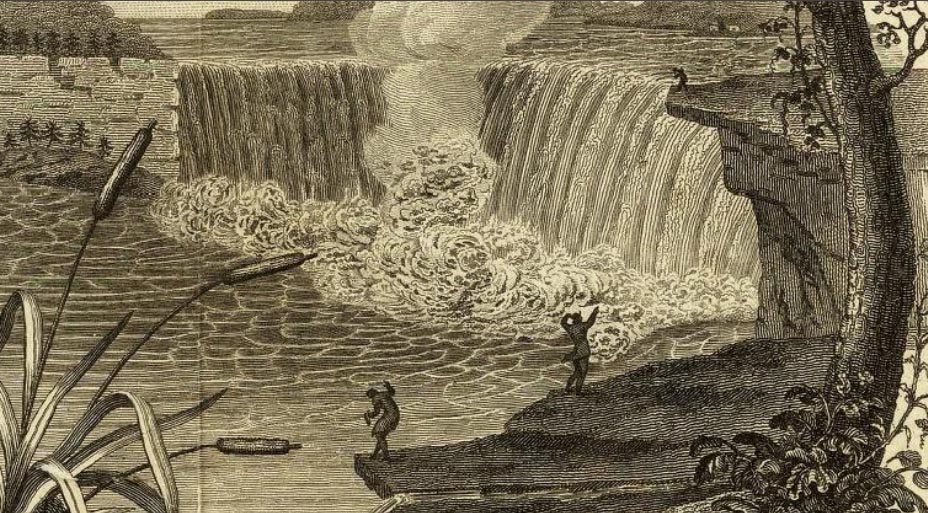 This close up view of Niagara Falls comes from the elaborate title cartouche to Henry Tanner Map of North America, 1823, which appears in Tanner's American Atlas of the same year. This scene plus several others in the cartouche make it one of the most beautiful title ornaments of early 19th century American mapping.