san francisco in maps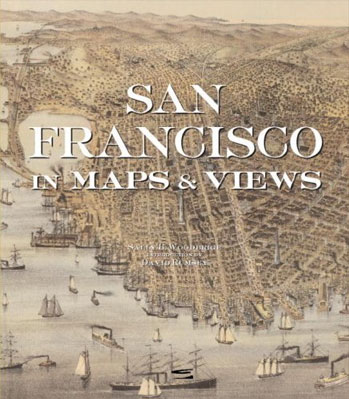 Book cover for Mapping San Francisco
San Francisco in Maps documents the evolution of this fascinating and beautiful city through 72 breathtaking antiquarian maps, spanning four centuries. The gorgeous maps, many of them hand colored and rarely seen, bring alive the history of this vibrant city. These maps range from the early days when they served to aid ship navigation of this unfamiliar and frequently foggy harbor; to the gold rush era in the mid-1800s, when the city's population grew exponentially and it saw the beginnings of neighborhoods like Chinatown, many of which persist to today; to the period before and after the great earthquake of 1906, which destroyed 80 percent of the city, and from out of which modern San Francisco emerged.
San Francisco in Maps: 1797–2006 is now shipping and is available for purchase at amazon.com
about the authors
Sally B. Woodbridge (Author) is a well-known writer, critic, and architectural historian based in Berkeley, California. She is author of, among other things, the landmark volume Bay Area Houses as well San Francisco Architecture, an illustrated guide to 1000 buildings. Among Sally B. Woodbridge's other books are Bernard Maybeck: Visionary Architect (1992),  Details: The Architect's Art (1991), and Bay Area Houses (1988). In 1993 Woodbridge received national honors from the American Institute of Architects for her work as a writer and historian.
David Rumsey (Introduction) is president of Cartography Associates, a digital publishing company based in San Francisco, and a director of Luna Imaging, a provider of enterprise software for online image collections. Mr. Rumsey received his BA and MFA from Yale University where he was a lecturer in art at the Yale Art School for several years. He serves on the boards of the Internet Archive, Samuel H. Kress Foundation, The Long Now Foundation, John Carter Brown Library and the American Antiquarian Society, is a trustee of Yale Library Associates, and is a member of the Stanford University Library Advisory Board.